Kevin Pietersen would 'love' to play for England again
Last updated on .From the section Cricket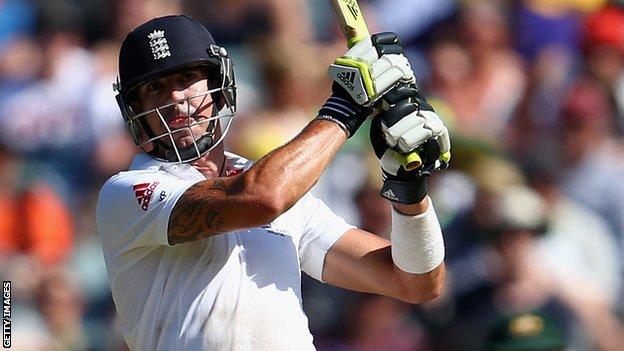 Discarded batsman Kevin Pietersen says he would "love" the opportunity to play cricket for England again.
Pietersen, who is fourth on the list of England's Test run-scorers, was told in February he would not be considered for selection again.
He told BBC Sport: "I've always said I'd love to play for England again. Certain things have put a halt to that, but I'm 34, my body feels great.
"My resume is OK - my job application is still there!"
England have gone eight Test matches without a victory and last month suffered their first home defeat against Sri Lanka in a series that consisted of more than one match.
Pietersen, who was part of the England team whitewashed by Australia last winter, also reopened his war of words with Matt Prior by claiming the wicketkeeper should be replaced in the Test team by Jos Buttler.
The uncapped Buttler, 23, made 121 from 74 balls at Lord's in the one-day internationals against Sri Lanka in May.
Kevin Pietersen
Tests:
104, runs 8,181, average 47.28, centuries 23, fifties 35, highest 227
ODIs:
136, runs 4,440, average 40.73, centuries 9, fifties 25, highest 130
T20s:
37, runs 1,176, average 37.93, fifties 7, highest score 79
Asked whether Prior, 32, was past his best, Pietersen said: "He probably was in Australia. I would play Buttler ahead of Prior every day of the week.
"You want Buttler on the international stage where you know he can change a game, win a game and break a game open for you."
Pietersen added: "I don't like to see England losing. I like to see England winning. I'm not a jealous person."
West Indies great Brian Lara on Pietersen
"You're talking about a natural talent, and someone who you'd pay your money to come and see. The core thing is that player must be a benefit to the team. It doesn't matter what he brings to the table in terms of his personality. He must conform and be a part of that team.You have individuals that are different at times but you have to accept that. I might have been one of those persons and fortunately for me, I lasted 17 years. There were times when it got a bit tricky. "
Regarding the increasing pressure on skipper Alastair Cook, Pietersen said he had some sympathy for the opening batsman because he no longer had the services of Graeme Swann.
The off-spinner retired from cricket midway through the Ashes loss.
"Swann is England's biggest loss," said Pietersen, who also called for left-arm spinner Monty Panesar to be recalled.
Former captain Pietersen, who made 23 centuries and scored 8,181 runs in his 104 Test matches for England, was sacked following the disastrous Ashes tour of Australia last winter, when Cook's team were beaten 5-0.
Paul Downton, the new managing director of the England and Wales Cricket Board, told the BBC's Test Match Special that Pietersen had appeared "disinterested" and "distracted" during the fifth Test in Sydney.
Ex-Australian paceman Brett Lee on Pietersen
"It's a massive shame. If I'm in the Australian cricket team right now, I'd want to be playing against Kevin Pietersen. I don't really care what they're like off the field as long as they can play some decent cricket. I know that every time he's been out there playing against me it's been a serious contest and I've always loved it."
Downton also claimed he was unable to find a single person who wanted the batsman to stay in the England side.
The ECB and Downton later apologised for the remarks.
Speaking ahead of Saturday's anniversary celebration match at Lord's between the Marylebone Cricket Club and the Rest of the World, Pietersen said: "I'd love to have got 10,000 Test runs. I would love to have played for the next three to four years, absolutely.
"I have always said that I am desperate to play for England."