Alastair Cook: England should be proud of captain, says Andy Flower
Last updated on .From the section Cricket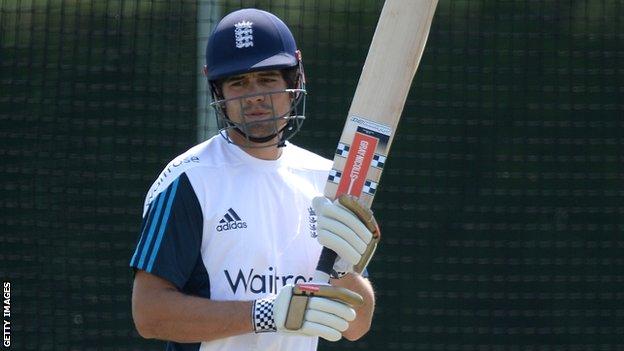 Former England coach Andy Flower has defended the captaincy of under-fire batsman Alastair Cook.
England have gone eight Test matches without a victory and begin a five-match series with India on Wednesday.
Cook, 29, has seen his batting form deteriorate, and the opener has gone 24 innings without a Test century.
But Flower told the Sunday Telegraph: "He's an outstanding cricketer. The public should be proud of having him as one of our own, leading the Test side."
Alastair Cook as England Test captain
Matches:
23
Wins:
9
Defeats:
7
Draws:
7
Cook is the fifth highest England Test run-scorer, with 8,125 runs, and has made 25 centuries in 104 matches since his debut in India in 2006.
He replaced Andrew Strauss as Test captain after England's 2-0 defeat by South Africa in 2012 and led them to their first series victory in India for 27 years.
There were also home series wins over New Zealand and Australia in 2013 before January's crushing 5-0 Ashes whitewash in Australia and a first home series loss to Sri Lanka last month.
Flower added: "It seems to be forgotten, and people should not forget, that this is a young man, a 29-year-old man, who has done some extraordinary things for his country.
"He has scored the most Test centuries for his country - that in itself is an amazing achievement, and he's got so much more left to give."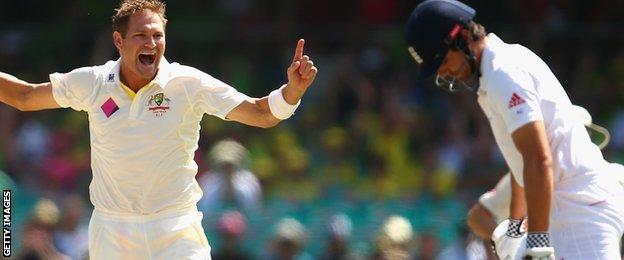 Cook's captaincy has been heavily criticised in recent times, and before the second Test with Sri Lanka at Headingley he called for an end to "personal" attacks on his style of leadership.
"Something needs to be done because for three years as England captain I have been criticised," he said.
However, defeat by Sri Lanka saw the negative comments continue, with Australia leg-spin legend Shane Warne describing the penultimate day of that match at Headingley last month as "the worst day of captaincy" he had seen at international level in almost 25 years.
Warne suggested that Cook should step down as captain to regain his batting form but Flower said the English cricketing public should keep faith with their skipper.
"They should not be duped into thinking otherwise by those that have the platform to shout loudest," Flower said.
"They should make their own judgment about a fine, proud Englishman leading the England cricket team.
"He would still acknowledge he is learning all the time. But who of us isn't learning? I know I've learnt a hell of a lot in the last couple of years and I'm 46."