Andy Flower: Ex-England coach working with Stratford-upon-Avon
By Stephan Shemilt
BBC Sport
Last updated on .From the section Cricket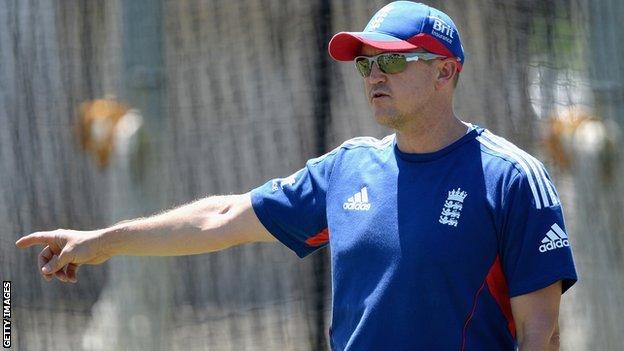 Andy Flower is coaching his local club in the Birmingham League Third Division - less than six months after resigning as England team director.
Flower, who led England to the top of the Test and one-day rankings during his five-year reign, volunteered to work with Stratford-upon-Avon.
The Warwickshire club are currently the top of the fourth tier.
"He's very hands-on. He takes one-on-one coaching sessions," Stratford chairman Steve Cootes told BBC Sport.
Flower, who won three Ashes series and the 2010 World Twenty20 with England, quit in January after the 5-0 Ashes whitewash in Australia.
Flower the England coach
Took charge in 2009 after Peter Moores was sacked
Won the Ashes at home in 2009 and 2013, and in Australia 2010-11, England's first win down under for 24 years
Led England to 2010 World Twenty20, their only major global trophy
Took England to number one in the Test rankings in 2011
The Zimbabwean is still employed on a full-time basis by the England and Wales Cricket Board as technical director of elite coaching but began helping out Stratford in May.
He was approached by a former Stratford player and takes charge of sessions twice a week, as well as watching some Saturday games.
"On the first night that he turned up, only a few of us were aware, not all of the players knew," Cootes said.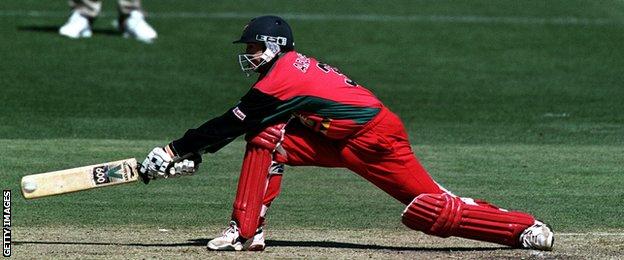 "As Andy came on to the field and then started taking a coaching session, a number of people looked up in disbelief."
Flower played 63 Tests for Zimbabwe between 1992 and 2002, scoring 4,794 runs at an average of 51.54.
Cootes said Flower has opted against playing for Stratford, but may coach on a long-term basis.
"He's made it clear that he'll focus his time as a coach and, though the question about playing has been asked, he's been very polite in declining," he said.
"I don't expect him to be playing, even though that would be fantastic. I expect him to coach for the rest of this summer and we'll talk to him at the end of the season about the possibility of him getting involved next year."
Flower the player

Tests
One-day internationals

63 caps

213 caps

4,794 runs, average 51.54

6,786 runs, average 35.34

151 catches, nine stumpings

141 catches, 32 stumpings
With Flower arriving midway through a 10-match unbeaten run, Stratford sit on top of the fourth tier of the Birmingham League, while the second XI are second in Division Two South.
"He takes group fielding sessions and runs the nets sessions. He's very much amongst it," said Cootes.
"He joins in, he doesn't disappear quickly after sessions. He's one of the lads. He has a beer afterwards. He's open and engaging, talking about his time in cricket. It's fascinating and inspirational for us to listen to him."
Cootes added that the 46-year-old Flower has also been watching some Fifa 2014 World Cup games in the Stratford clubhouse.