England v India: 'Unresponsive' Trent Bridge pitch helps no-one

By Jonathan Agnew
BBC cricket correspondent
Last updated on .From the section Cricket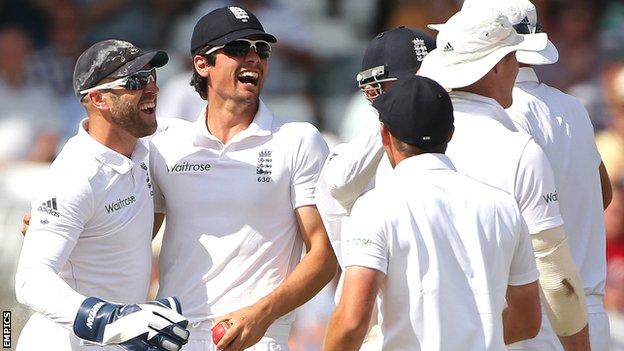 England deserve great credit for their efforts on the first day of the Test series against India but, in trying to beat the tourists on a wicket as lifeless as this, they really are doing it the hard way.
I'm not one for rigging pitches for home advantage. I thought it was wrong in last summer's Ashes when England were clearly happy to produce dry surfaces to suit Graeme Swann.
But you do want something to work with, especially when you have a team full of fast bowlers and you are so desperate for a win to get your confidence back.
Instead, the Trent Bridge deck was so unresponsive that some balls were bouncing twice before reaching the wicketkeeper. To see that on the first day of a Test match is utterly demoralising.
Leading Test wicket-takers at Trent Bridge

Wickets
Player
Tests
Average
51

James Anderson (Eng)

8

18.03

41

Alec Bedser (Eng)

6

20.21

32

Fred Trueman (Eng)

5

16.50

29

Shane Warne (Aus)

4

17.72

28

Brian Statham (Eng)

6

22.85

Statistics correct at close of play on 9 July
It is not just the bowlers who suffer. It is the batsmen, who like the ball to come on to the bat so they can play their shots, and the spectators, who want to be entertained.
Above all, it is not what England would have wanted and you could see that from the bowlers' faces, both when they first saw the pitch this morning and when they found the edge of the bat, only for the ball to fall short of the slips.
Given the conditions, which might as well have been imported from Nagpur, England did pretty well to limit India to 259-4.
I've played on pitches like this and you have to keep your chin up. Broad looked angrily at the pitch a couple of times, but generally England's energy levels and body language were good considering the conditions.
If your head goes down and your shoulders slump, it can only encourage the opposition so you have to keep running in.
Former England opener Geoffrey Boycott
"There was half an hour when England had a chance of grabbing the game. That passed and we went back to striving but getting nowhere because the pitch defeated the seamers and we didn't have a spinner good enough."
It was also pleasing to see England's strategies in the field pay off. After lunch, they diverted from Plan A of two slips and a gully and brought in men on the drive. The move brought a wicket for Anderson from a slower ball, as Cheteshwar Pujara's mistimed drive picked out Ian Bell at silly mid-on.
The wicket of Ajinkya Rahane - when he toe-ended an attempted pull to silly point - was a bit freakish but again it was a plan to have a man there. It's good to see England being inventive and trying things as a team.
Rahane's wicket gave England an opening, but they were made to toil in the last part of the day as Murali Vijay completed an excellent hundred. The right-handed opener played beautifully, showing off some languid on-drives that reminded me of VVS Laxman.
While the endeavours of England seamers kept India's scoring in check, spinner Moeen Ali again looked a bit exposed. Every now and again he delivers a really poor ball, which totally releases any pressure he has built up.
At least England are taking steps to try to address the gaping hole Swann's absence has left in the side.
Simon Kerrigan, the left-arm spinner from Lancashire who was so ruthlessly taken apart by Australia at the Oval last year, was bowling in the nets at Trent Bridge yesterday, and was used as a substitute fielder today.
England are clearly trying to get him used to life as an international cricketer. They want to make him feel comfortable because if they are going to keep playing on pitches like this, they are going to have to find a frontline spinner from somewhere.
To that end, Monty Panesar must be absolutely kicking himself. With Swann gone, the door is open for him but he has managed to wreck a golden opportunity.
For reasons that have not been made public, but are apparently down to him, he is currently not selectable for Essex, which is really sad.
Jonathan Agnew was talking to BBC Sport's Sam Sheringham