England v India: Alastair Cook needs to be patient over form

By Jonathan Agnew
BBC cricket correspondent
Last updated on .From the section Cricket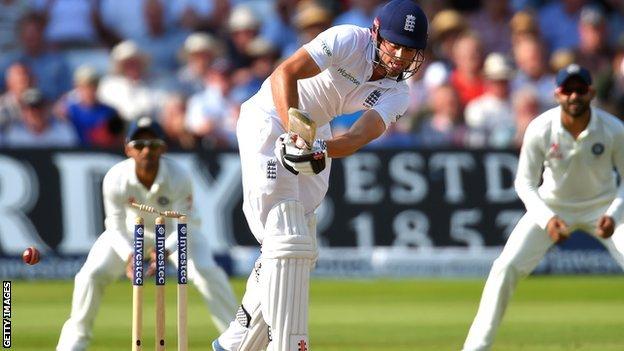 First Test, Trent Bridge (day two)
India 457 v England 43-1
Scorecard
There is a wheel of fortune in sport and right now Alastair Cook's is pointing to rock bottom.
Any batsman will tell you that when you are in a real trough of form you find weird and wonderful ways of getting out.
The ball that dismissed the England captain on the second day of the first Test against India could have gone anywhere. When you are out of touch it hits you on the thigh pad and goes into your stumps.
Cook will no doubt have trudged back to the dressing-room cursing, wondering what he has done to bring about this bad luck. But he just needs to keep being patient and one day it will turn around.
Former England opener Geoff Boycott
"I know what it's like for Cook when things are going against you. It will probably be the only dismissal he gets off his thigh pad onto the stumps. If he gets a second failure here the selectors and him have a problem. Do you go on playing Test cricket or go back to county cricket? Our selectors have hung their cap on Cook for the future when they let Kevin Pietersen go. But if he keeps failing do you keep picking him?"
It is something that happens to every batsman. No-one, with the possible exception of Don Bradman, just serenely goes on making mountains of runs. That's why when you are in form you have to cash in.
We are talking about millimetres and fractions of millimetres. So much of cricket involves these fine margins, but when it is not going your way there is very little you can do.
It will not make Cook feel any better, but in some ways it helps that he is the captain, because he does not have to worry about being dropped.
The worst thing for a batsman who is struggling is the fear of losing their place.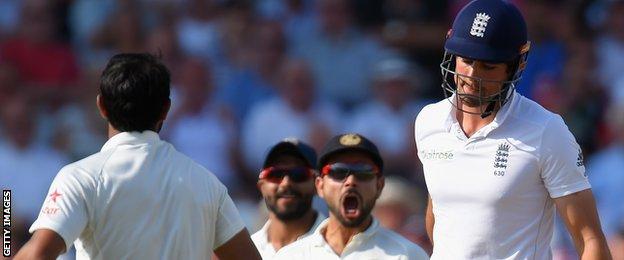 I remember the terrible pressure some of my Leicestershire team-mates were under when they were out of form. The fear that the hinges of the trap door were being oiled behind them meant they would often try too hard and make things even worse.
Cook knows that he has this series to turn things around. People in the England camp will be constantly reassuring him and urging him to stay calm. If we are still talking about his batting woes in the fifth Test at the Oval, however, there really will be a problem.
His dismissal completed a chastening afternoon as events once again conspired against the England skipper.
The hosts looked to have got themselves back in the match when four quick wickets fell after lunch to leave India on 346-9.
If England had bowled them out for around 350, they would have had the initiative, and India would have been down on their feet.
But that remarkable last wicket partnership of 111 sapped the last drops of energy from England's bowlers and must have transformed the mood in the home dressing-room before Cook and Sam Robson walked out to start their innings.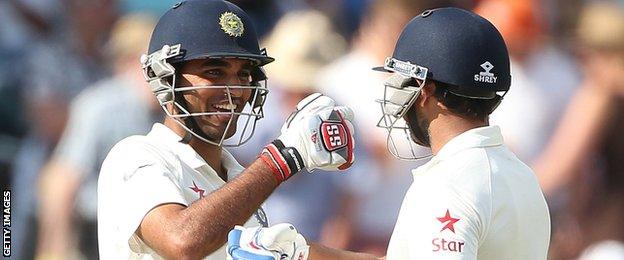 It is not the first time this England side have struggled to finish off an innings. In recent years, opposition teams are averaging more than 30 for the final wicket against them. Even when you allow for the figures being inflated by the extraordinary feats of Tino Best and Ashton Agar, that is a lot of runs.
I don't think Cook could have done much more in the field to prevent India's final pair from wriggling their team out of trouble, but I am getting a bit tired of Liam Plunkett running in and hurling the ball in short.
On this kind of surface most tail-enders with helmets on can handle bouncers. You are much more likely to knock them over by bowling fast and full.
England were also crying out for a quality spinner to unlock the door. Not only did Moeen Ali fail to offer a threat, he also leaked runs at more than five an over, meaning Cook had to keep turning back to his seamers.
Between them, James Anderson, Stuart Broad, Ben Stokes and Plunkett got through 142 overs in India's first innings.
With only three days rest before the second Test at Lord's, that is another headache Cook could do without.
Jonathan Agnew was talking to BBC Sport's Sam Sheringham