MCCA Knockout Trophy: Devon set sights on reaching final
By Brent Pilnick
BBC Sport
Last updated on .From the section Cricket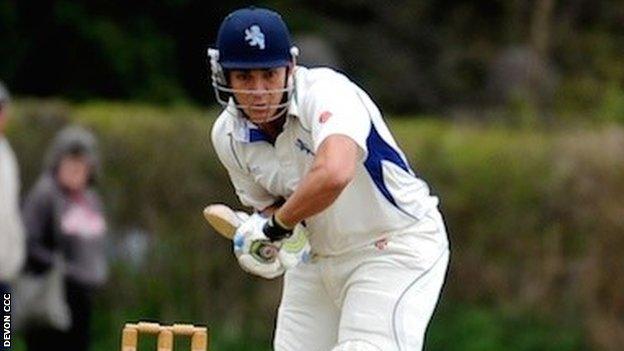 Devon director of cricket Keith Donohue says the current side has a chance to make a name for themselves as they prepare for their MCCA Knockout Trophy semi-final against Cheshire.
Devon have made seven finals since 1991, winning four of them.
"We're stepping out on the path of hopefully making an name for ourselves in our own right and in our own time," Donohue told BBC Sport.
"We've got a proud tradition within the county, we've had a number of successful teams in the last 20 or 30 years and we're immensely proud to represent the county as a result of that.
"Our team is a decent team in our own right, but we'd be the first to admit that we're just starting out on that road.
"We have a number of young and very young cricketers amongst our group, so all these games like Sunday will be a first for many.
"But we're trying to make our own way in our own time."
Devon are again able to include Somerset's Jamie Overton, although his Taunton club-mate James Burke is unavailable because of illness.
"We're very pleased that Jamie Overton is available to play for us. He hasn't got Somerset commitments this weekend and having played in the quarter-final he'll take his place in the semi-final," said Donohue.
"James Burke is quite unwell at the moment and is struggling to do anything, let alone play sport. He'll be a miss to us, but we've got a lot of very good cricketers to take his place."
Devon and Cheshire faced each other in the Minor Counties Championship at Sidmouth earlier this week,
The northern side are aiming to make their first one-day final since 2007, but Donohue is hopeful his side will be able to handle the occasion.
"I don't necessarily think there's too much in the way of nerves," he added. "In many respects it's a relief because we've had to play an awful lot of cricket to get to this stage and you're within touching distance.
"We're just eager to get out there and give it our best. If you want to win things, you're going to have to have some big games towards the end."