England batting collapse proves Ashes nightmare remains - Agnew

By Jonathan Agnew
BBC cricket correspondent
Last updated on .From the section Cricket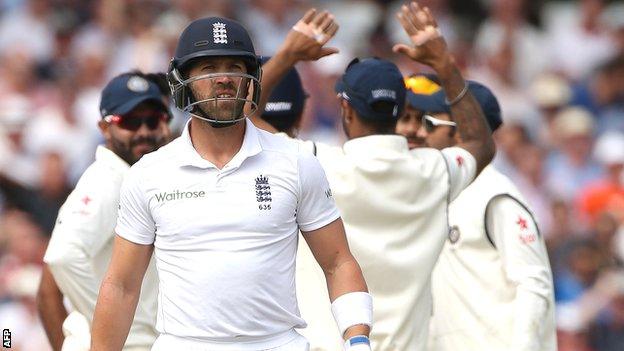 First Test, Trent Bridge (day three)
India 457 v England 352-9
Scorecard
There may be one or two new faces in this England team but they are clearly still suffering a hangover from their disastrous Ashes campaign.
The confidence of the players remains so fragile that when a couple of wickets fall, they are riddled with tension, and all too often the wheels come off.
How else do you explain England's latest batting collapse, from 131-1 at lunch to 205-7 at tea on the third day of the first Test against India at Trent Bridge? Or the second innings implosion at Headingley against Sri Lanka?
Whatever they say about being positive, for all their public utterances about moving forward and putting the Ashes behind them, it will not change overnight. This is a very vulnerable group of players suffering from a crushing lack of confidence.
England's collapses in past eight Tests

8-54 & 7-49

v Australia, Brisbane, Nov 2013

6-24

v Australia, Adelaide, Dec 2013

6-61 & 4-17

v Australia, Perth, Dec 2013

6-53 & 5-6

v Australia, Melbourne, Dec 2013

5-17 & 4-8

v Australia, Sydney, Jan 2014

6-75

v Sri Lanka, Lord's, June 2014

5-18

v Sri Lanka, Headingley, June 2014

6-68

v India, Trent Bridge, July 2014
England's inconsistency is no doubt testing people's patience, but people do have to be patient at the moment because this is a team in transition.
English cricket needs a period of stability, a chance for the new regime to settle down.
This is not the time for knee-jerk reactions, for chopping and changing. If things haven't worked and decisions have to be made at the end of the summer, then they will have to be taken.
I believe England have the nucleus of a good side. All the new batsmen have already scored hundreds, but when you have inexperience you do get ups and downs and inconsistency.
There are, however, issues that need to be addressed sooner rather than later.
Sam Robson, Gary Ballance and Joe Root all scored runs in England first innings but they also showed a technical deficiency that will cause them problems unless corrected.
All three of them are so reluctant to get on the front foot. They are permanently crease-bound, which makes them prime candidates for lbw decisions.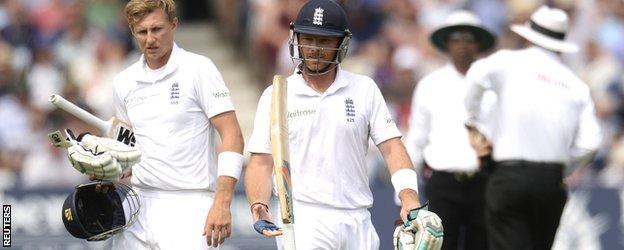 Ballance has already had a couple of lbws this summer and Robson was caught on the back foot by Ishant Sharma, even if replays suggested he got a slight inside edge.
Root batted well after a shaky start to see England to the close with one wicket still intact, but his reluctance to get on the front foot was exposed by Australia last summer and he doesn't seem to have changed his method at all.
In criticising the home side's batting, I don't want to detract from the superb efforts of India's three frontline seamers, who comfortably out-bowled England's on this docile pitch.
They are all very good in different ways. Mohammed Shami bowls a full length with a nice high seam. Bhuvneshwar Kumar swings the ball both ways and Sharma produced a really wholehearted, pacey spell to turn England's innings on its head.
Part of the problem, of course, is that these conditions suit India better than England.
It would be very easy for England to work themselves up into a real fury about the pitches and get into a siege mentality, but that would be totally counter-productive.
They need to focus their energies on working out a way to improve their performances and results. There are enough people round them to help them, but only the players can do it.
Likewise, I hope Alastair Cook manages to keep everything in perspective.
The England captain still has most of the media with him. They know the investment that has been made in him, they don't see many other candidates to be captain, and they still back him as the right man for the job.
But it's very easy for a captain under pressure to start sniping at the media, and that would be a big mistake.
Jonathan Agnew was talking to BBC Sport's Sam Sheringham