Sachithra Senanayake: Sri Lankan banned over bowling action
Last updated on .From the section Cricket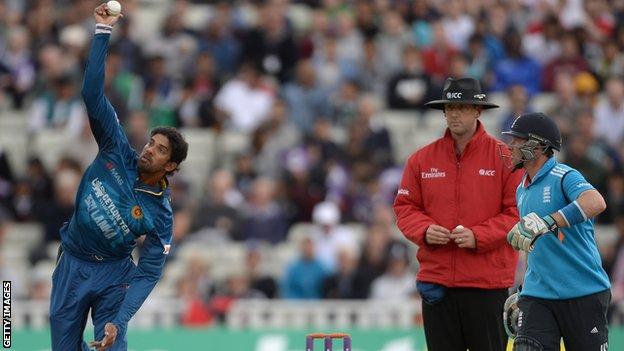 Sri Lanka off-spinner Sachithra Senanayake has been banned from bowling in international cricket.
The International Cricket Council (ICC) found he bowled with an "illegal" action, after he was reported following a match against England in June.
Bowlers are not allowed to straighten their arm by more than 15 degrees.
Senanayake, 29, can seek a hearing from a bowling review group made up of experts appointed by the ICC, who would vote on the legality of his action.
They would review evidence and decide by a majority vote.
Senanayake was reported - for the second time in his career - by umpires Ian Gould and Marais Erasmus following Sri Lanka's victory in the fourth one-day international at Lord's on 2 June.
Law 24, Section 3
"A ball is fairly delivered in respect of the arm if, once the bowler's arm has reached the level of the shoulder in the delivery swing, the elbow joint is not straightened partially or completely from that point until the ball has left the hand. This definition shall not debar a bowler from flexing or rotating the wrist in the delivery swing."
Source: MCC Laws Of Cricket
He failed an assessment of his action during a test conducted at Cardiff Metropolitan University.
A statement from Sri Lanka Cricket said: "The report concludes that Sachithra bowled with an illegal bowling action and consequently he is banned from bowling in international cricket.
"This matter will be referred to the Sri Lanka Cricket (SLC) committee for their recommendation."
Senanayake can continue to play domestic cricket under the supervision of the SLC, and can apply for a reassessment of his action after remedial work. However, he will be given a one-year ban if he fails a second assessment.
Senanayake, a limited-overs specialist having played only a single Test, was reported in 2011 on a tour of England with Sri Lanka A. He worked with coaches in his homeland to remedy his action, and was subsequently cleared after undergoing biomechanical testing in Perth.
Sri Lanka captain Angelo Mathews says scrutinising the actions of unorthodox spinners is something Sri Lanka have "experienced since Muttiah Muralitharan's time".
Off-spinner Muralitharan, whose action was twice called into question, retired from Test cricket in 2010 as the all-time leading wicket-taker with 800 victims.