England risk burnout in victory push - Jonathan Agnew

By Jonathan Agnew
BBC cricket correspondent
Last updated on .From the section Cricket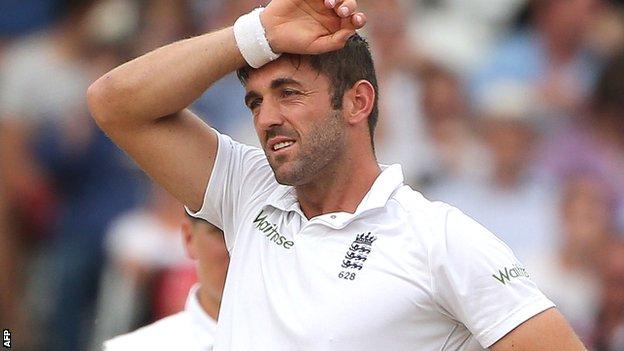 First Test, Trent Bridge (day four)
India 457 & 167-3 v England 496
Scorecard
For all the joy and entertainment of seeing Joe Root and James Anderson put on a record last-wicket stand for England, it will probably be India who finish the first Test in better shape.
The incredible 198-run partnership and two late wickets have given England an outside chance of victory, but the more likely scenario is that their bowlers are going to have to get through a lot of overs on Sunday with the Lord's Test just round the corner.
England should go hard at India until lunch, but if they haven't taken three or four wickets by then they will have to seriously consider how they approach the rest of the day.
India are likely to want to bat for most of the day, before potentially having a pop at Alastair Cook in the final session.
Former England captain Michael Vaughan
"On Thursday at Lord's I'd be amazed if the same four seamers play for England. I think they'll use it to rotate and keep players fresh. Plunkett might miss Lord's and they bring Chris Jordan in. They might save Plunkett for the third and fourth Tests at the Ageas Bowl and Old Trafford."
But I imagine there will come a point where England simply have to give up on this match in order to look after their quick bowlers.
With the second Test at Lord's starting on Thursday, the fitness of their bowlers is paramount and they will have to start planning ahead.
That might mean they have to go off the field with so-called niggles, and we might get a lot of overs from part-time spinners Joe Root and Moeen Ali just to get the game completed.
If that happens, it won't be a great spectacle but it won't be the players who are to blame.
The fact is, this schedule is crazy. Trying to squeeze five Tests into 42 days is just too much and it may well be that by the end of this series we conclude they would have been better off keeping it to four because the players are too exhausted to be performing at their peak.
Test matches are seriously hard work. The physical effort required to bowl or keep for a day and a half is enormous.

Just take the example of Matt Prior. He is coming in for some criticism for missing a couple of chances, but this is an absolute nightmare of a pitch to keep wicket on.
The ball is keeping so low that you have to keep coming forward to reach it before it bounces. As a result your reaction time is halved. It must be draining physically and mentally for the England wicketkeeper and his counterpart MS Dhoni.
Both teams should be 100% fit and fresh to play a Test match. It becomes a bit of a farce when they are having to rest their bowlers during a match to plan ahead to the next one.
You want the players to be at their best. That's a basic expectation when people pay their money to come and watch.
I just hope the International Cricket Council officials think about these things when they plan the new Future Tours Programme.
Some would argue they are making encouraging noises about preserving Test cricket and giving incentives to the lesser teams. However, it could be said that if they are just going to schedule Test matches back to back like this, they are not doing anybody any favours.
England v India: five Tests in 42 days
1st Test:
Trent Bridge, 9-13 July
2nd Test:
Lord's, 17-21 July
3rd Test:
The Rose Bowl, 27-31 July
4th Test:
Old Trafford, 7-11 August
5th Test:
The Oval, 15-19 August
It would be churlish to finish without paying tribute to James Anderson's amazing innings of 81 - the highest score by an England number 11.
It was particularly remarkable because it was a proper innings, played at a batsman's pace, not a number 11 clinging to the crease.
Vic Marks has always said there is something of David Gower in the way Anderson bats and I have always laughed at him. But actually he played some shots today that were top-class.
Everyone who plays enough cricket will have an opportunity somewhere along the line to have their moment. I think that might have been Anderson's moment.
In what might well be a very forgettable Test match, that innings and partnership will live long in the memory.