How can England find new breed of spinner like Graeme Swann?
By Sam Sheringham
BBC Sport
Last updated on .From the section Cricket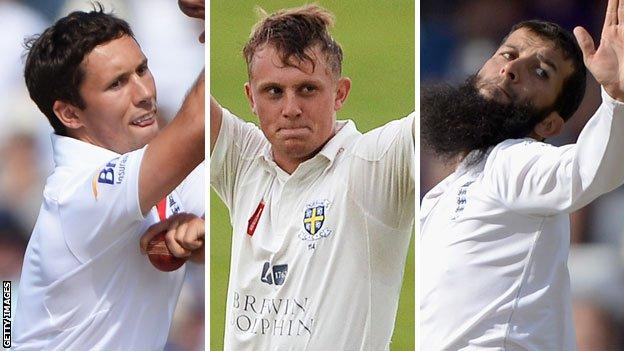 Kevin Pietersen may still hog the headlines five months after his departure, but Graeme Swann arguably left a bigger hole in the England Test team.
England and Wales Cricket Board's national spin coach Peter Such told BBC's Test Match Special there was a "shallow pond" to choose from and urged county teams to give their spinners more overs in first-class cricket.
England played four seamers in the first three Tests of the summer and entrusted the slow bowling duties to Moeen Ali, a part-time off-spinner who took seven wickets at an average of 54.
For the second Test at Lord's, England have recalled Simon Kerrigan, the 25-year-old Lancashire left-armer who was smashed out of the attack on his debut by Australia's Shane Watson last summer.
Here, former England spinners Swann, Phil Tufnell, Vic Marks and Such - who took 424 Test wickets between them - discuss what goes into making a spin bowler and how England can inspire a new breed.
Why does England have a shortage of spinners?
Swann: "I can't believe out of 18 counties, one or two of them haven't gone for the spinning options. They all do the same: medium pace. Why doesn't someone leave their wickets dry and play two or three spinners? One year we did that at Northants and walked the Second Division because we won every home game by an innings.
"If you had a couple of centres around the country producing turning pitches and committing to developing spinners you would start getting people going there. You would get 16-year-olds thinking that going to one of those counties and bowling spin could be a good career choice. At the moment, if I went to watch a county game, there would be no incentive to bowl spin, because most of them stand at second slip picking their nose for 95 overs."
Such: "I'm a really strong believer in the fact you need to be bowling overs in the three- and four-day game to develop into a top spin bowler. You learn skills in that format, can adapt your skills and apply them in the shorter form of the game.
"Sadly, at the moment spin bowlers tend to get their opportunities in Twenty20, which doesn't help them when they are trying to take wickets in the longer form. In Twenty20, you are looking to try to get ball underneath bat, not give it as much air, whereas in longer form of the game, you have to spin it and challenge the outside edge and the inside edge of the bat."
What do you need to be a good spinner?
Tufnell: "Becoming a decent spin bowler doesn't just happen overnight. You have to have done your apprenticeship. That means club cricket, second XI and getting used to that role in the side.
"It is quite a specialised position. When it spins you are the one person everyone looks to; when it seams you have three of your mates there to help you out. You have to have been in those positions for your county just to have the bottle to run up and know that you have it in you.
"You need to have a bit of a brain as well. You've got to be able to out-think a batsman - you've got to work him out. You've got to feel lots of different things, which comes back to experience. You've got to have that belief in your game. What is your strategy to get a batsman out?"
Marks: "If you are a young fast bowler and you bowl 90mph you will get respect. If you are a young spinner the batsmen are going to go at you. It's having the experience to react when they are out to get you. You have to earn that respect.
"The two best spinners England have had in recent years have both come from Northampton, where it was dry and it turned for Monty Panesar and Graeme Swann. If you play on a turning pitch you are going to get overs and you are not going to be frightened by the pressure of bowling on a spinning pitch."
Swann: "It is such a lonely position that you have got to grow into it, understand it, to deal with pressure. Day one of a Test match, I would wake up without a care in the world, knowing all I had to do was bowl 20 overs for 60 runs. On day four, I would wake up feeling electrified knowing they were expecting me to take six wickets to win the game.
"Young spinners are not used to that; they are not ready for that pressure of having Nasser Hussain sticking a microphone under their nose first thing in the morning and saying, 'It's up to you. Are you going to do it?'"
Leading England spinners in Tests

Tests

Wickets

Average

Derek Underwood

86

297

25.83

Graeme Swann

60

255

29.96

Jim Laker

46

193

21.24

Tony Lock

49

174

25.58

Monty Panesar

50

167

34.71

Fred Titmus

53

153

32.22
How important is the captain?
Marks: "What a spinner hates being is a bowler of last resort. They have gone through the four seamers, then 'oh, you come and have a bowl'. I used to sing to myself, 'I'm an over-rate bowler and I'm alright'. There is no reason why a spinner should not bowl at the start of a day. Any spinner worth his salt should have the confidence to set his own fields."
Tufnell: "I was lucky. I had Mike Gatting as captain, who was a very good player of spin and saw spinners as one of the main ways of winning games. I became a spin bowler because it meant you could bowl all day. It was about being involved in the game."
Swann: "You have to win your captain over. I was lucky that I won Andrew Strauss over early on by getting wickets in my first game. I am very stroppy when I bowl so I just told them to give me the field I wanted or they could let someone else bowl."
Who should be England's next spinner?
Such: "Spin bowlers in England take a bit longer to develop; they tend to peak at about 27 or 28. There are some talented young guys who have still got time to hone their skills and move forward.
"Simon Kerrigan did a lot of work in the winter to improve his game and we are trying to build him back up to a level where he can go out there and perform. Kent's Adam Riley is a talented young spin bowler. He is tall, gets good shape on the ball and will be a talented young spin bowler moving forward.
"Scott Borthwick is a fine all-round cricketer who bats, bowls and fields. But he has not really bowled all that much. He just needs to play, bowl and continue to develop."
Swann: "I think England coach Peter Moores is keen to get Kerrigan back into the team, but I'd love to see him get a lot more wickets under his belt for his own confidence and state of mind.
"Scott Borthwick is a very, very talented young bowler - he just needs to bowl a lot more overs. He needs to get away from Durham."
Marks: "A lot of these young bowlers struggle in the first innings. They are alright if you are in control. They might win you the match but they can't bowl those overs that need to be bowled early in the game."
Tufnell: "You always need a spinner in your side, just for the variety, but if you haven't got one you can't pick one. What a great opportunity now for a spin bowler to really stick his hand up and demand to be picked by England.
"It is about someone taking enough wickets so that they can't be ignored, but as yet no one has done it."
Listen to the debate about England's spin problems on the Test Match Special podcast.