Peter Sainsbury: Ex-Hampshire all-rounder dies at 80
Last updated on .From the section Cricket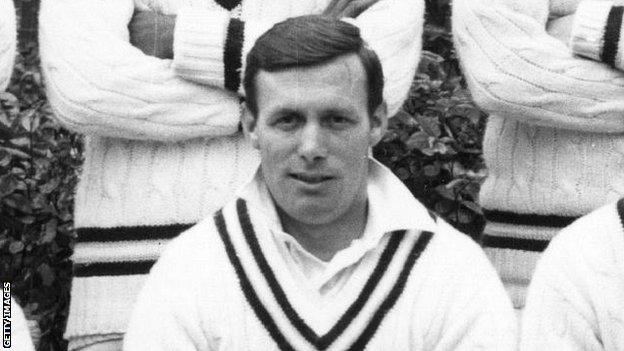 Former Hampshire all-rounder Peter Sainsbury, the only man to play in both of their County Championship-winning sides, has died at the age of 80.
An orthodox left-arm spinner, right-handed batsman and excellent close fielder, Sainsbury helped Hampshire win the Championship in 1961 and 1973.
Also winning the Sunday League in 1975, he retired after the 1976 season and then coached the side until 1991.
Sainsbury took 1,316 wickets and made 20,176 runs in 618 first-class games.
Born in Chandler's Ford near Southampton, Sainsbury made his first-class debut for his native county in 1954, and spent more than two decades in the side.
He took the wicket which won the Championship when the title was clinched against Derbyshire at Bournemouth in 1961 - and once dismissed England great Len Hutton twice in a day.
Although he never played for England, he was once named by legendary commentator John Arlott in a best XI of English players who never won full international honours.
Peter Sainsbury factfile

Played 618 first-class games (inc 593 for Hampshire - third highest after CP Mead & AS Kennedy)

Also played for MCC, Combined Services, TN Pearce's XI and International Wanderers

20,176 first-class runs (inc 19,576 for Hants - eighth highest)

1,316 first-class wickets (inc 1,245 for Hants - fifth highest)

Named as one of Wisden's Five Cricketers of the Year in 1974

One of nine men to do 1,000-wicket/10,000-run double in county cricket since World War II
During his time as coach, the side won two more Sunday League titles in 1978 and 1986, two Lord's one-day finals in 1988 and 1991, and were Championship runners-up in 1985.
Among those that led the tributes to Sainsbury were former Hampshire skipper Mark Nicholas, who told BBC Radio Solent: "I'm devastated.
"I was very fond of him and in my early days at Hampshire I would go as far as to say I loved him like a father, so it is very upsetting. He was a special guy.
"One learned a lot from Sainsbury about what was right or wrong in life. He was a teacher of attitude and approach and made one realise the value of commitment. He influenced a lot of us."
Nicholas added of his ability on the field: "He was a foil for so many other cricketers, people could bounce off him.
"He could keep a tight end when he bowled and a tight end when he batted. He caught the ball every time it flew in the air, his ground fielding was superb and he was a constant source of encouragement.
"His standards were very high and he kept himself tremendously fit. He allowed other people to play their game through his own organisation."
Hampshire chairman Rod Bransgrove told the club website: "We are all sharing a profound sense of loss at the sad passing of one of the club's true legends as both a player and a person.
"Our sympathies and thoughts are with Peter's wife, Joyce and his devoted family. A sad day for Hampshire Cricket."
Former England all-rounder Ian Botham tweeted a picture of himself with Sainsbury, who came to Botham's aid in a 1974 game after he was struck in the face by a ball from Andy Roberts, adding: "A great servant to Hampshire".
Hampshire announced that their players would wear black armbands for Sunday's County Championship game against Essex at Colchester, although the first day's play was completely washed out by rain.