England v India: Jonathan Agnew on Kerrigan, Cook & pitches

By Jonathan Agnew
BBC cricket correspondent
Last updated on .From the section Cricket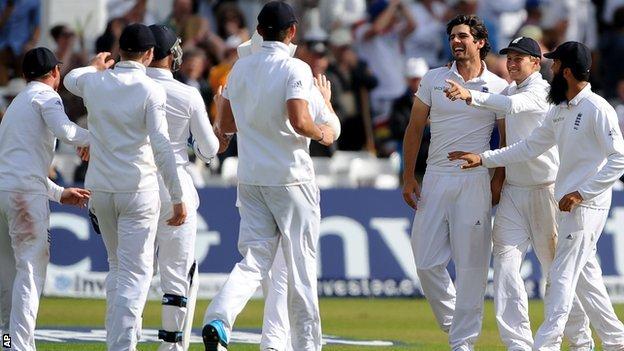 First Test, Trent Bridge (day five)
India 457 & 391-9 dec drew with England 496
Scorecard
England fought back gamely at Trent Bridge to give themselves an outside chance of victory going into the final day.
However once India had recovered from losing three early wickets on Sunday, they were able to bat out the draw and the pitch was the winner in the end.
England showed good togetherness to turn the match around, and one or two individuals excelled. But let's not get carried away. They are still a long way from being the finished article.
Here are five unanswered questions going into the second Test at Lord's.
Who should bowl spin?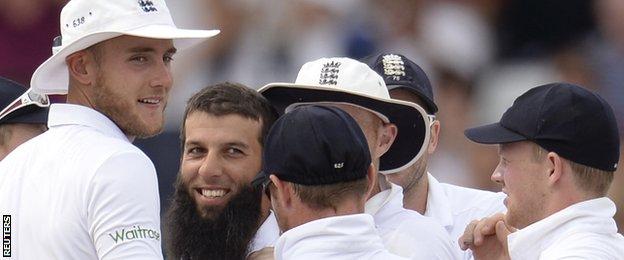 England's decision to call up Simon Kerrigan to the squad for Lord's is a big call and I think it would be a gamble to stick him in the team so early in the series.
He does seem to have modified his action, but this is a guy who showed serious confidence problems when he fell apart during his debut against Australia at The Oval last year.
Former England captain Michael Vaughan
"We saw what happened with Simon Kerrigan at The Oval last year; he wasn't ready. Against this Indian batting it's such a risk. If it goes wrong, you could put him back three or four years. Next year in April I think it's perfect for Kerrigan or Kent's Adam Riley to play in the West Indies. If England want to go with a first-rate spinner at the moment - Gareth Batty. He's not going to rip through but he can hold an end, which at the moment Moeen Ali can't seem to do."
Everyone deserves a second chance, but you should always pick your best team and right now England's best team contains four seam bowlers.
Their four quicks got them into a position to win the first Test, and given more assistance from the pitch could easily have seen them over the line.
The key for the rest of the series will be for Moeen Ali to develop into a spin bowler who can really hold down an end and give the seamers a rest.
He can spin the ball, but he has got to get into a situation where he can build some pressure. I would much rather see him bowling maidens than experimenting with doosras.
Too short, too often?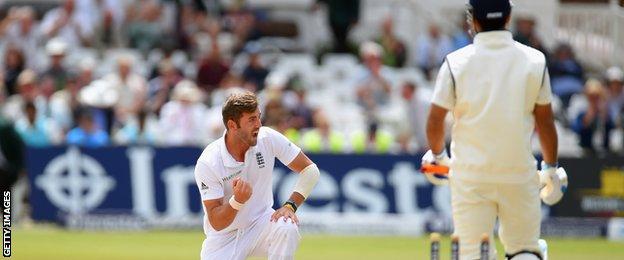 England seem to have developed a theory - especially when Liam Plunkett is bowling - that you can take lots of wickets by bowling round the wicket, short and into the body.
It's a valid tactic, and can work well on really bouncy pitches, but it was no good at all on the docile surface at Trent Bridge.
I just felt at times in this game, and in the 1-0 series defeat by Sri Lanka, England became obsessed with funky new things rather than doing the basics.
There is a lot to be said for just trying to hit the stumps. If you bowl full and straight you have every mode of dismissal on.
If you run up with a circle of fielders around the batsman, it is rather telegraphing what you are going to do to the batsman. Once or twice it might pay off, but statistics will show that if you run up and bowl on off stump or thereabouts you are going to get people out.
When the pitch is unresponsive, you have got to try things, but actually just building up pressure by bowling maidens is as good as anything else.
The Indians like to score freely, so why not stop them scoring runs for a bit? I know Cook has been criticised for being defensive, but perhaps he is actually being a little bit too proactive at times.
When will Cook's form return?
Alastair Cook had a good game as captain, but he can't score a run for love nor money at the moment.
It's a shame he didn't have the chance to bat on the final day at Trent Bridge while chasing a total because that does distract you from your own issues.
If you have a target to chase, you are focused on that and it takes away the worries about whether the feet are moving properly or the bat is coming down straight.
Cook's form is symptomatic of an inconsistent batting unit low on confidence, and sooner or later these batting collapses have to stop.
In terms of captaincy, it was really good to see how hard people were fighting for the team. That is the sign of a healthy environment.
Former England captain Alec Stewart
"Whatever support network you have it's still down to you. Alastair Cook has got to be concerned. He is in the side to score runs, which he is not doing. He captained the side very well in this game, but India's 10th-wicket partnership in the first innings, which put on 111 runs, really killed him, so his preparation going to bat was not as it should have been and he had a muddled mind."
Who are the best slip fielders?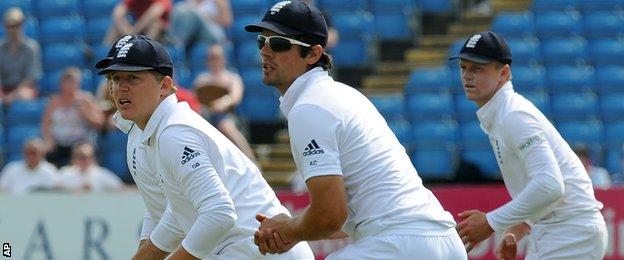 All of the great Test sides have had a settled slip cordon, which is not something you could say about England at the moment.
Losing Graeme Swann at second slip leaves a big hole, and England are yet to decide on his permanent successor.
Chris Jordan filled in well against Sri Lanka, but in dropping him for Ben Stokes, England went back to square one.
In the event, it wasn't a big issue at Trent Bridge because the pitch was so slow I don't think a catch went to second slip in the whole game. But it is vitally important they do identify who is going to field in the slips and then work and work at it.
Cook dropped an easy catch at first slip on the final day, but he is actually a good example of a player who has turned himself from a pretty awkward fielder into a trustworthy slip catcher. The only way to do that is through hard work.
Will the pitches help England?
Former England opener Geoff Boycott
"I've always tried to say to people that yes we have a responsibility to play decent cricket but were always dependent on the 22 yards. How do you think they would play tennis at Wimbledon if the court was bumpy? This wasn't a contest. There wasn't much in it for any of the bowlers."
After the much-maligned pitch at Trent Bridge, let's hope the remainder of the series is played on good cricket wickets that provide an even contest between bat and ball.
We don't want a minefield. We just want a surface where if a fast bowler bends his back he can get some reward, and the spinner comes into the game from the fourth afternoon onwards.
But preparing Test wickets is a serious science. It's very difficult and you are going to get it wrong sometimes, as Trent Bridge groundsman Steve Birks admitted he did.
Just because we've had a low, slow pitch in Nottingham that's no reason to believe that will be the case for the whole series.
I'm sure England will be keen to get some more grass on the pitches and, after what happened at Trent Bridge, the groundsmen might well be keen to oblige.
Jonathan Agnew was talking to BBC Sport's Sam Sheringham