England v India: Jonathan Agnew says tourists were let off the hook

By Jonathan Agnew
BBC cricket correspondent
Last updated on .From the section Cricket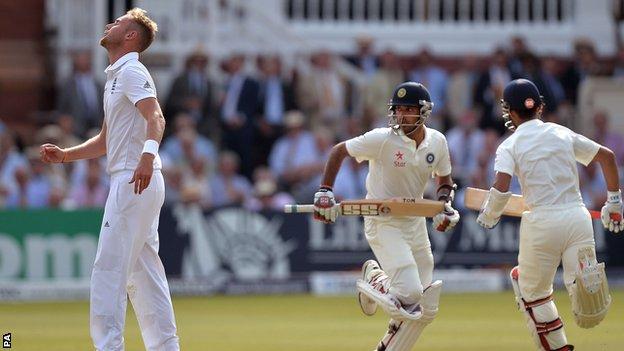 If England are honest, they will be disappointed with their performance on the first day of the second Test at Lord's.
On a pitch tailor-made for seam bowling, they were absolutely right to field first after winning the toss, but they failed too often to bowl to the required line and length as India made 290-9.
The tone was set in the morning as England allowed India to leave far too many deliveries.
When a batsman is facing a bowler from the Nursery End, he knows he doesn't have to play at anything pitching around off stump because it will move away down the slope, so it is essential that the bowler gets his line right.
It may look pretty when the ball shapes away and nips through to the keeper, but if the batsman isn't being asked to play a shot you are wasting a delivery.
You may end up with good, economical figures, but the clock is ticking towards a time when the conditions won't be as good so you need to strike while the iron is hot.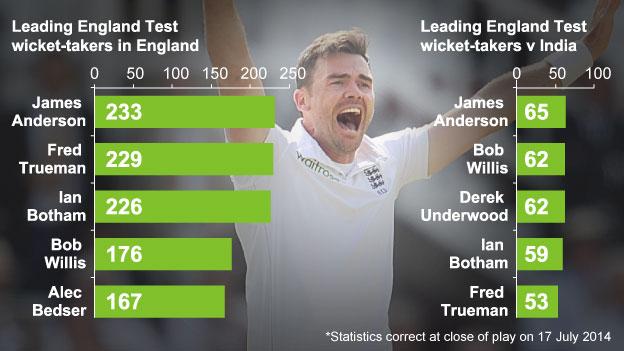 The message must have been rammed into the bowlers' heads at lunch because they bowled much better in the afternoon session and reaped their rewards.
When James Anderson removed Stuart Binny via a slightly fortunate lbw decision to leave the tourists on 145-7 just after tea, England looked on course to bowl them out for about 170. But once again they let them off the hook.
I was particularly baffled to see England refusing to have a short leg in place for the vast majority of the day.
I bang on and on about this, but they would have picked up two wickets there today, including that of centurion Ajinkya Rahane, who popped the first ball after tea into that vacant area.
I've spoken to Alastair Cook about this and he is totally dismissive of the idea because he doesn't believe you get wickets there.
But having a short leg is not just about taking catches. It plays on the batsmen's mind and leaves them much more hesitant about getting forward.
As a bowler I always wanted someone there because it meant I could bowl that little bit fuller and it might well bring about an edge to slip.
I was similarly dismayed to see England persist with trying to blast out tail-enders through short-pitched bowling.
England knew the ball was moving around because at one end they had Ben Stokes bowling with three slips and a gully in place.
Why then, at the other end, was Liam Plunkett running in and bowling short?
Ex-England batsman Geoffrey Boycott on Test Match Special
"England are like a misfiring car - there are too many parts which don't look very good. Matt Prior is dropping catches, Alastair Cook hasn't got any runs, we don't know if the bowlers can bowl line and length. I won't be putting any money at all on England beating Australia next summer. I'm worried about the Ashes. There's nothing which stands us in good stead."
Listen to Boycott analyse England's performance on the TMS podcast
On a quick, hard, bouncy pitch against tail-enders it can work, at Trent Bridge when the wicket was doing nothing it was worth a go. But when the wicket is as helpful to swing and seam as this one, it simply doesn't make sense. It's illogical and I'd love to know what the explanation is.
Anderson was the pick of the England bowlers with 4-55 as he surpassed Sir Ian Botham to become the leading Test wicket-taker at Lord's.
The Lancashire quick had dominated the build-up to the match after he was charged by the International Cricket Council with misconduct for allegedly pushing and abusing Ravindra Jadeja.
From what I'm picking up from the India camp, they feel what was said by Anderson has been trivialised.
It is for them to explain why if it was so serious they didn't report it straight away, but they seem adamant it was quite an unpleasant incident.
Meanwhile, the England camp are playing it down, so we are left with claim and counter-claim.
It seems clear that the matter will not be fully resolved until after the end of the series so I think we all need to wait for the evidence to come out to draw any conclusions about the incident.
Jonathan Agnew was talking to BBC Sport's Sam Sheringham
Listen to Geoffrey Boycott and Jonathan Agnew review the day's play on the Test Match Special podcast.