Craig Cachopa: Batsman signs two-year Sussex contract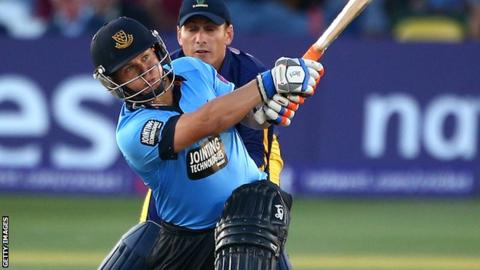 Batsman Craig Cachopa has signed a two-year deal with Sussex which will run until the end of the 2016 season.
The 22-year-old former New Zealand Under-19 captain has made two appearances in the T20 Blast during a trial spell at Hove.
Cachopa was born in South Africa but qualifies as a non-overseas signing as he holds a Portuguese passport.
"I'm really happy to have signed here at such a historic club. This is a fantastic opportunity for me," he said.
Cachopa has been at Hove for two months and scored 147 in a recent 50-over match against Kent's second XI.
He made his debut for Sussex in Friday's T20 defeat by Kent, scoring 11, and then hit 24 off 14 balls in Tuesday's win over Glamorgan.
"I played with Chris Nash and Luke Wright in New Zealand and when I came over to the UK to play club cricket, they suggested I joined up with the second XI," Cachopa added.
"That gave me the chance to get to know the club and I'm absolutely thrilled to be offered a contract."
Craig Cachopa's career stats
First Class
Matches: 21
Runs: 1,688
Average: 51.15
High Score: 203
List A
Matches: 23
Runs: 519
Average: 23.59
High Score: 121
Twenty20
Matches: 31
Runs: 573
Average: 24.91
High Score: 49
Cachopa has played for Auckland and Wellington in New Zealand and averages 51.15 in first-class competition.
"We're are excited to see how he progresses over the next two years," Sussex cricket manager Mark Robinson said.
"We can't wait to see if he is able to transfer his form that he has shown for Auckland and our second team into first team runs for us."