England v India: Trent Bridge pitch rated 'poor' by ICC match referee
Last updated on .From the section Cricket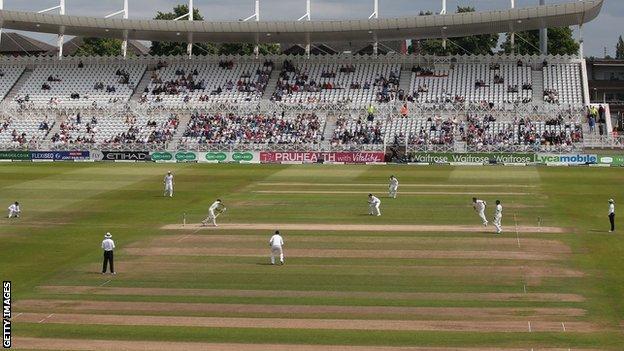 The Trent Bridge pitch for the first Test between England and India earlier this month has been rated "poor" by the International Cricket Council.
A total of 1,344 runs were scored as the Test was drawn, and match referee David Boon "expressed concerns over the quality of the pitch".
The England and Wales Cricket Board has 14 days to respond to the report.
It is the first time since regulations came in four years ago that an English Test match pitch has been rated poor.
ICC general manager Geoff Allardice and chief match referee Ranjan Madugalle "will consider all the evidence" after the ECB submits its response and then decide if a penalty needs to be imposed.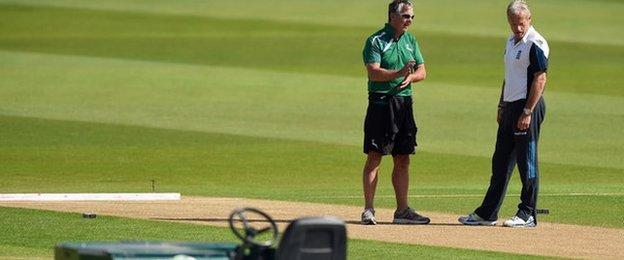 In a joint statement, the ECB and Nottinghamshire Cricket Club said they were "already working closely to address the uncharacteristic nature of the pitch" and planning "corrective action".
BBC Sport's Pat Murphy described the rating as "a bit of a black mark against Trent Bridge".
He added: "Next year's Ashes Test match at Trent Bridge is not in danger but if they transgress again in the next five years it could be serious."
The Trent Bridge pitch was so unresponsive that some balls were bouncing twice before reaching the wicketkeeper, said BBC cricket correspondent Jonathan Agnew after the first day's play in Nottingham.
Possible ICC action
If a pitch is rated poor the penalty on the first occasion is a warning and/or a fine of up to $15,000 (£8,800) along with a directive for corrective action.
On second and subsequent occasions, within five years of the first report, a fine not exceeding $30,000 (£17,500) is handed along with a directive.
The Test ran to five days, during which time India scored 457 and 391-9 declared while England amassed 496 in their only innings.
The match witnessed two 10th-wicket century stands - including James Anderson and Joe Root's world-record 198 for England.
The ICC has six categories for rating Test match pitches: very good, good, above average, below average, poor and unfit.
Only two other Test venues - St Kitts in the West Indies and Galle in Sri Lanka - have been described as having poor pitches by the ICC since the Pitch and Outfield Monitoring Process began in 2010.