Jonathan Agnew: England must 'kick down door' to stop rot

By Jonathan Agnew
BBC cricket correspondent
Last updated on .From the section Cricket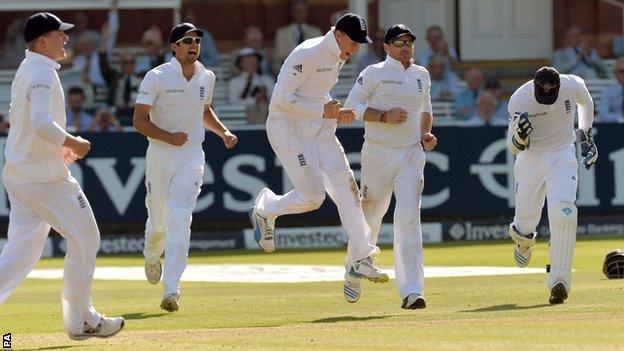 Second Test, Lord's (day three)
India 295 & 169-4 v England 319
Scorecard
England have had chances to win every Test match this year and squandered them all.
We know this is a team lacking confidence that struggles when it comes to the crunch in matches. But sooner or later that has to stop.
If they can somehow scramble over the line in the next two days, it would give them an enormous lift.
All the pressure on Alastair Cook, the worries over senior players, the questions over tactics and coaching staff could be put to one side, and they could actually enjoy that winning feeling again for the first time in almost a year.
Ex-England batsman Geoffrey Boycott on Test Match Special
"England have had opportunities to win each Test this summer, but they are not quite good enough - about the same as India. When one side gets a sniff, the other comes out and bats well. These teams are sparring with each other; they can't finish the other off. There is no genuine hostility and no quality spin. If you ask the judges who's winning, I couldn't tell you."
They would be 1-0 up with three to play and could really look to kick on in this series and beyond.
England owe their opportunity to a brilliant burst from Liam Plunkett just when the partnership between Murali Vijay and Cheteshwar Pujara looked to be taking the game away from them.
Plunkett gained his reward from bowling full and fast, and exploiting some uneven bounce, taking two wickets from his 12 overs.
His ball to Pujara was a beauty, just shaping away a touch and finding the edge. Kohli, aware of the Lord's slope, tried to leave one because he thought it would miss off stump, but it held its line and trimmed the bails, which is a real victory for the bowler.
It was such a relief seeing Plunkett abandon the immature bodyline bowling of the first innings in favour of line and length.
Firing down bouncer after bouncer might work in county cricket where you don't see so much quick bowling and the pitches aren't so true, but Test cricketers are used to it. I can't think of a single Sri Lanka or India player who has been remotely bothered by the tactic this summer.
Bowling on English pitches is not rocket science. If you bowl a good length on off stump, the ball just has to do a fraction, up or down or side to side, and you get someone out.
It was a big decision to recall Plunkett after seven years but today he showed what an exciting cricketer he can be.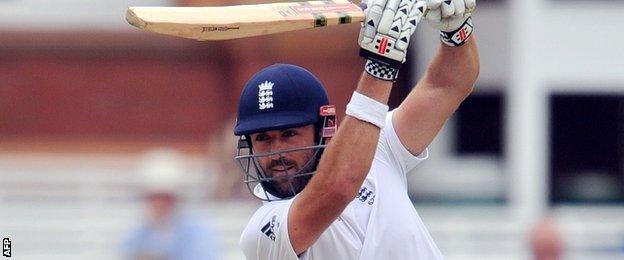 He scored his first Test fifty to help England establish a slender lead and then did what a fast bowler is supposed to do by producing an explosive wicket-taking spell.
England need him to do that in order to take some of the workload off James Anderson and Stuart Broad, who have already got through a lot of overs this summer.
Anderson looked a bit down on pace on Saturday, while Broad is battling with a long-standing knee problem, although he did bowl better today than he did in the first innings.
Broad was fortunate to take the wicket of Ajinkya Rahane when umpire Bruce Oxenford failed to spot the ball bouncing off the batsman's armguard before Matt Prior took the catch.
The dismissal once again exposed the irrationality of India's opposition to the decision review system.
Even if they allow for the system in its most basic form - up to the point of impact - the decision would have been overturned and their first innings centurion might well still be at the crease.
Importantly for England he is not - and the challenge for the hosts now is to take these last six wickets relatively quickly and restrict their victory target to somewhere around the 250 mark.
Then it will be a case of whether Cook and his men, at the fourth time of asking this summer, can turn an opportunity into a positive result.
Jonathan Agnew was talking to BBC Sport's Sam Sheringham
Listen to Geoffrey Boycott and Jonathan Agnew review the day's play on the Test Match Special podcast.