England captaincy: No alternative to 'steely' Alastair Cook - Agnew

By Jonathan Agnew
BBC cricket correspondent
Last updated on .From the section Cricket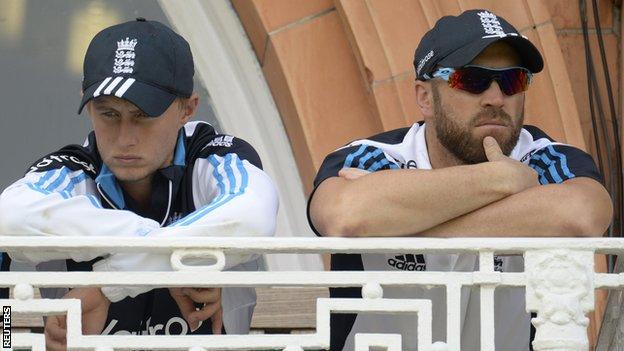 The manner of England's surrender to India on the final day of the second Test at Lord's was as bad as anything I've seen over the years.
You have to doff your cap to Ishant Sharma for the way he bowled, with a great deal of hostility and exactly the right line.
But you really do have to wonder what on earth was going on in the minds of the England batsmen as they planted pull shot after pull shot straight into the hands of fielders who had been pushed back to take those catches.
You might get away with taking it on once or twice, but no more.
I can only conclude that England are still suffering from the legacy of Mitchell Johnson and the way he roughed up the lower order and tail during the 5-0 Ashes whitewash down under.
The scars are clearly still there and England can expect to receive plenty more short stuff in the remainder of the series.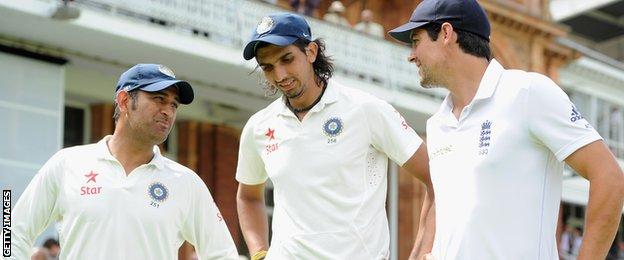 In the course of that crazy hour after lunch, England delivered the game to India and there are simply no excuses for a performance like that.
England's dismal displays this summer have inevitably led to calls for captain Alastair Cook to resign, but I am not surprised he is staying on.
He is utterly determined to turn this around and you have to admire his attitude. Others might have given up by now, but he has this very steely core and simply refuses to give in.
Cook might take a different view if he could look around the dressing-room and see someone who could step in right now and take England forward, someone in good form who is content with own game. But there isn't anybody.
Cook clearly views himself as the only leadership candidate at the moment and it is hard to disagree with him.
You can't just cast around blindly and bring anybody in the hope that fortunes turn. It has to be someone who can do the job.
Joe Root is a future candidate but at the moment he's a relatively immature, inexperienced individual who has to learn the game.
Michael Vaughan has put forward Eoin Morgan's name, but he has only played 16 Test matches and averages 30. We don't want to go back to the days of having a captain who is always having to justify his position as a player.
England captain Alastair Cook on the senior players
"The young guys have turned up and played to their potential. Myself, Ian Bell, Stuart Broad and Matt Prior haven't played as well as we can play. They can be very proud of their past records but Test cricket is a very tough environment to survive in and play. The game owes you nothing just because you have done it in the past."
As long as Cook really wants the job then he should see out this series because England have invested so much in him and there really is no viable alternative.
After that, if England still aren't winning and his form has not come back, maybe it will be time to take a break, miss the World Cup and return for the West Indies Test tour in April.
He is a proven player who has captained a side to a Test series victory in India and does have good form behind him. He is not scoring runs at the moment, and that must change, but he is also being badly let down by his senior players.
Ian Bell can't buy a run, Stuart Broad and James Anderson are well below their best, while Matt Prior has decided to stand down from England duty for the rest of the summer because of injury.
It is not the end for Prior by any means, but his decision will likely clear the way for Jos Buttler to get his chance in the third Test at Southampton.
Buttler is still a bit raw as a wicketkeeper but he will not be doing much standing up to the spinner so it is not a bad time to bring him in.
He is a breath of fresh air with the bat and should be encouraged to play his natural game as he adapts to Test cricket.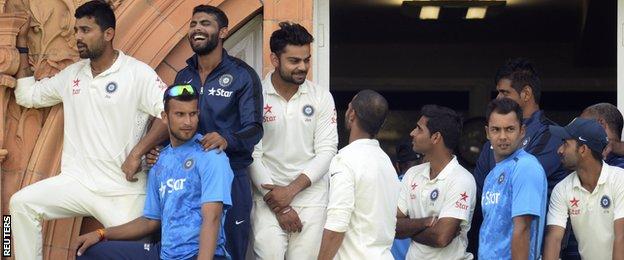 I also wouldn't play Broad in the next Test.
England were hoping he would get through to end of the season but he is clearly troubled by a long-standing knee problem, so maybe it is time to get that sorted and get him back to his best for the World Cup and Ashes next year.
As for Anderson, he faces a preliminary hearing into his altercation with Ravindra Jadeja on Tuesday and looked totally out of sorts in this match.
But can England really leave out their two most senior bowlers in Southampton?
I suspect Anderson will play, given the inexperience of the rest of the bowlers at England's disposal, but at some stage there is going to have to be some rotation given the back-to-back nature of the Tests in this series.
It all adds up to a right old mess - and one almost entirely of England's own making.
Jonathan Agnew was talking to BBC Sport's Sam Sheringham
Listen to Geoffrey Boycott and Jonathan Agnew review England's defeat on the Test Match Special podcast