Matt Prior 'hunted mercilessly' by media, says Sussex boss
Last updated on .From the section Cricket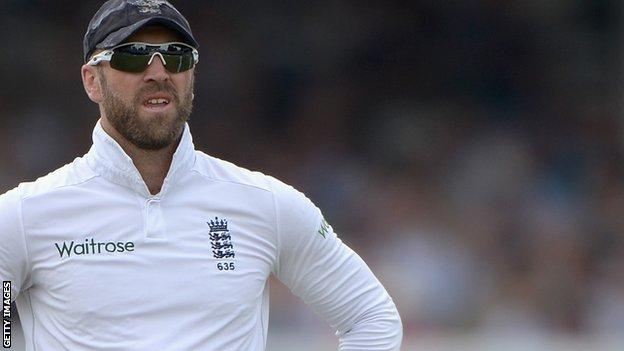 Media scrutiny played a major part in wicketkeeper Matt Prior's decision to stand down from England duty for the rest of the summer, according to Sussex cricket manager Mark Robinson.
His announcement followed England's second Test defeat by India at Lord's.
"The media have hunted him mercilessly and made his position and Alastair Cook's job difficult for any player," Robinson told BBC Sussex.
"With Matt carrying injuries it probably got a bit too much and he has done the right thing to pull himself out.
"Everybody scrutinises every move he does, it almost makes it impossible for him to do his job, as it is for the England captain. Every move they make is under enormous pressure."
Prior was restored to the Test team against Sri Lanka in June having been dropped for the final two matches of the Ashes tour of Australia in the winter.
The Sussex wicketkeeper, who was voted England Cricketer of the Year for 2012-13, struggled with an Achilles injury while playing for his county in April, and tore his quad in the lead-up to the first Test against India at Trent Bridge earlier this month.
While Prior emphasised that he was not retiring after earning 79 Test caps, he accepted that he might not get his England place back, with Jos Buttler replacing him in the squad for the third Test against India in Southampton, starting on Sunday.
Which Tests will Prior miss?
Third Test v India (27 July)
Fourth Test v India (7 August)
Fifth Test v India (15 August)
"He didn't go in with the best health, but Matt is a warrior, he is a tough guy and for him to say enough is enough, then he must be hurting," continued Robinson.
"The amount of Test matches back-to-back took a toll on him and it was getting increasingly difficult.
"He can take stock of himself, do what he needs to do on his Achilles and get himself ready to properly put his name in the ring.
"He is just 32, some of the stuff being said and written about him, the obituaries and that type of thing, is a bit premature. He has a lot of international cricket left in him."