England v India: Hampshire groundsman confident in pitch
Last updated on .From the section Cricket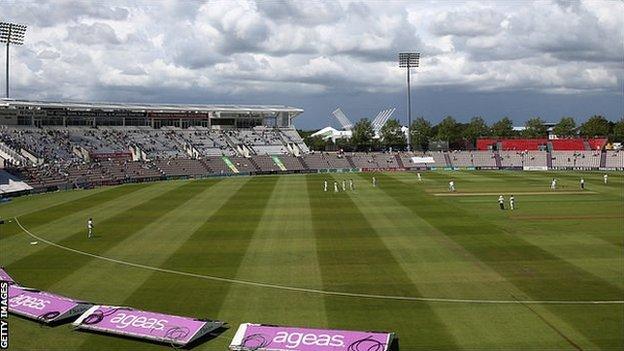 Hampshire head groundsman Nigel Gray believes the Ageas Bowl pitch is in good shape for the third Test between England and India.
The Lord's Test, which England lost, began with a green strip.
"It's firm, there is a covering of grass on it, so it is looking like it will be a good pitch to me," Gray told BBC Radio Solent.
"It won't be as grassy as Lord's was when that Test started, it will be much more like the Test we had against Sri Lanka three or four years ago, which was a good pitch. It went through, there was a bit in it for the bowlers and the batsman can play their shots, so I'm expecting very similar.
"It's the same 22 yards so it looks like it should be a good pitch again but you never can really tell until you start playing on it.
"But there is no reason to think it won't be very good."
"We want it to have a little bit of assistance for the seamers if possible rather than being a flat road. We want a decent balance between bat and ball."
The pitch for the first Test of the series at Trent Bridge attracted criticism from both ex-players and the media, with BBC cricket correspondent Jonathan Agnew describing the way the wicket was playing on the opening day as "utterly demoralising".
And Gray has admitted to a few nerves ahead of the first ball and revealed they had met with ECB representatives over how they wanted the pitch to be.
"I don't feel pressure," he said. "Every groundsman is under scrutiny, as are the players. There are a lot of media hours to fill these days so everyone is inspected quite intensely.
"After 24 years of being head groundsman you still get nervous. I'm confident we've produced a good pitch, I just hope it turns out alright and that the players produce a good game of cricket."