England v India: What makes a great captain?

By Simon Hughes
BBC Test Match Special
Last updated on .From the section Cricket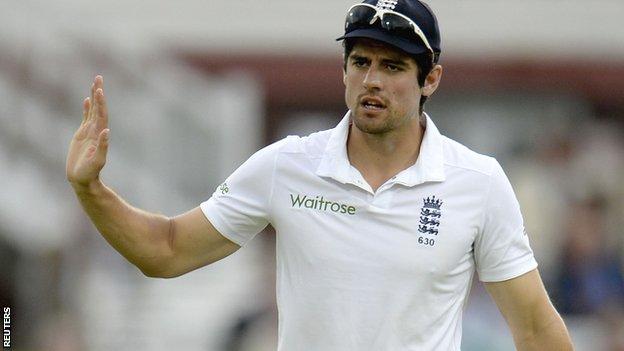 Third Test: England v India, Ageas Bowl
Dates:
27-31 July;
Coverage:
Live text commentary on BBC Sport website, live radio commentary on BBC Radio 5 live sports extra
In the latest of his series, BBC Sport cricket analyst Simon Hughes looks at what it takes to be a great captain, and why Alastair Cook is "too nice".
This England-India Test series already seems to have boiled down to a captaincy duel between Alastair Cook and Mahendra Dhoni.
While Cook's leadership was rather formulaic in the second Test at Lord's last week, Dhoni's initiative to get Ishant Sharma to try leg theory in the over before lunch on the fifth day effectively won the match for his team.
Dhoni immediately recovered his reputation for being an imaginative captain, while for Cook it was the nadir of his reign.
Yet Cook's win ratio (36%) is still better than many well-respected Test captains of the past, including New Zealand's Stephen Fleming (35%), Australia's Allan Border (34%) and Pakistan's Imran Khan (29%). So is he the right man to lead England out of a slump that has seen them go 10 Tests without a win?
"Captaincy is 90% luck and 10% skill," the inimitable commentator Richie Benaud liked to say. "But don't try it without that 10%."
Best win ratio as captain (min 25 Tests)

Date range

Tests

Won

Win %

Steve Waugh (Aus)

1999-2004

57

41

72%

Ricky Ponting (Aus)*

2004-10

77

48

62%

Mike Brearley (Eng)

1977-81

31

18

58%

Bill Woodfull (Aus)

1930-34

25

14

56%

Viv Richards (WI)

1980-91

50

27

54%

Shaun Pollock (SA)

2000-03

26

14

54%

Mark Taylor (Aus)

1994-99

50

26

52%

Michael Clarke (Aus)

2011-14

37

19

51%

Michael Vaughan (Eng)

2003-08

51

26

51%

Hansie Cronje (SA)

1994-2000

53

27

51%

*Statistics include a one-off Test between a World XI and Australia in 2005
There is lot of fortune involved in leading a team, starting with the calibre of the players you inherit.
The success of Australian Donald Bradman's famous 1948 'Invincibles' - so called because they went through the tour of England unbeaten and won the Ashes series 4-0 - had little to do with his captaincy.
They were simply replete with excellent, hungry players and England were still recovering from the ravages of war.
Australia captain Ian Chappell would not have won the Ashes in 1974-75 without Dennis Lillee and Jeff Thomson and England's Mike Brearley would not have regained them without Ian Botham and Bob Willis.
Brearley is an interesting case. though, since his captaincy clearly made a difference. He remains England's most successful skipper and the teams he led were consistently successful. When he retired they declined.
I played under him at Middlesex for three years and what he had, in my experience, were two things: a deep appreciation of the game and a great understanding of character. They are the captain's key ingredients.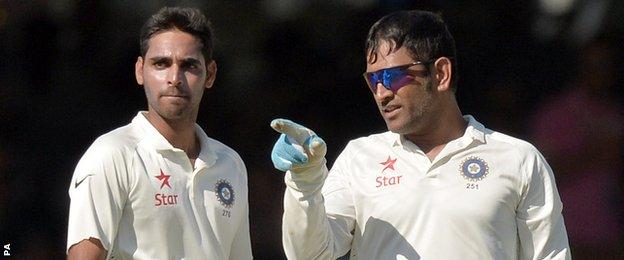 Brearley, whose book The Art of Captaincy remains the definitive tome on leadership, watched the game intently and encouraged everyone else in the team to do the same.
If he caught people playing dressing-room card games and not supporting the batsmen in the middle, he gave them a rollicking. It is important the captain wields authority.
Cook said after defeat at Lord's that it was not his job "to criticise batsmen for poor shots or the bowlers for bowling badly".
It absolutely is his job. He carries the can if things go awry, so he has the right to expect commitment and high standards and should insist on it. Essentially, he is too nice.
Despite a flimsy-looking body and a limp handshake, Brearley was quite scary. If you did not do what he wanted - either accidentally or on purpose - he went ballistic.
Best win ratio as England captain (min 25 Tests)

Date range

Tests

Won

Win %

Mike Brearley

1977-81

31

18

58%

Michael Vaughan

2003-08

51

26

51%

Peter May

1955-61

41

20

49%

Andrew Strauss

2006-12

50

24

48%

Ray Illingworth

1969-73

31

12

39%

Nasser Hussain

1999-2003

45

17

37%

Alastair Cook
2010-present
25
9
36%

Ted Dexter

1961-64

30

9

30%

Colin Cowdrey

1959-69

27

8

30%

Graham Gooch

1988-93

34

10

29%
But he also recognised the right tone to use with each player. He was a great believer in both the stick and the carrot.
To ill-disciplined characters or underperforming players (like me), he could be intolerant and have a rant. He called Botham the "Sidestep Queen" during the 1981 Ashes when he had added a little sideways jump into his delivery stride.
It riled Botham into running in harder and bowling with much greater potency.
But Brearley had amusing, persuasive methods to galvanise others, such as on a hot afternoon promising the fearsome fast bowler Wayne Daniel an introduction to the attractive Tavern barmaid if he could summon up one more serious spell.
He would often come up to the youngest or most insecure player and ask them for an idea or who they thought should bowl next. He did not always follow the suggestion but he made the player concerned feel important and better about himself.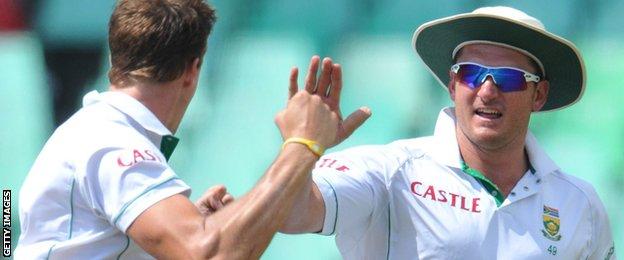 His ideas sometimes seemed eccentric but he had such conviction that everyone bought into them.
A captain also has to be flexible. He may go into the game with a plan - and these days strategy is based on a lot of data and statistical analysis - but he must be prepared, and strong enough, to adapt to the situation.
Australia captain Michael Clarke's management of Mitchell Johnson in last winter's Ashes whitewash over England was a masterstroke.
He could sense when Johnson was off key and whipped him out of the attack after only three overs, as happened in the first Test in Brisbane. Then he unleashed him later with an older ball.
The converse is also true: to recognise when the force is with someone, as Dhoni did after Ravindra Jadeja's daring innings at Lord's. Dhoni threw him the ball for the sixth over of England's second innings and he trapped Sam Robson lbw first ball.
Do you need captaincy experience to be good at the job? Not necessarily.
Most Tests as captain

Date range

Tests

Won

Lost

Drawn

Graeme Smith (SA)*

2003-14

109

53

29

27

Allan Border (Aus)

1984-94

93

32

22

38

Stephen Fleming (NZ)

1997-2006

80

28

27

25

Ricky Ponting (Aus)*

2004-10

77

48

16

13

Clive Lloyd (WI)

1974-85

74

36

12

26

Steve Waugh (Aus)

1999-2004

57

41

9

7

Arjuna Ranatunga (SL)

1989-99

56

12

19

25

Mahendra Dhoni (Ind)

2008-14

55

27

14

14

*Statistics include a one-off Test between a World XI and Australia in 2005
Michael Vaughan had led England Lions on one tour before graduating to Test cricket, and finished up with England's second best win ratio of 51%.
Clarke spent most of his career in the shadow of Ricky Ponting before he took over. The craftiest captain around at the moment, Brendon McCullum, had only led New Zealand a few one-day matches before taking charge of the Test side.
In addition to batting, a second skill - whether that be part-time bowling, great catching or keeping - is also a useful advantage, offering a rounded cricketing knowledge.
This applies to all great captains - from Australia's Chappell, Benaud, Warwick Armstrong and Steve Waugh through England's Douglas Jardine and Ray Illingworth, and West Indies' Frank Worrell and Clive Lloyd to Vaughan, Dhoni and Clarke - although Brearley was an exception to this rule.
Ultimately, good captaincy is like wine tasting. You need a good nose for it, a feel for it, a sixth sense about its condition and a confidence to say or do something about it.
Like the great sommeliers, you have either got it or you haven't.