Jonathan Agnew: Encouraging signs in England recovery

By Jonathan Agnew
BBC cricket correspondent
Last updated on .From the section Cricket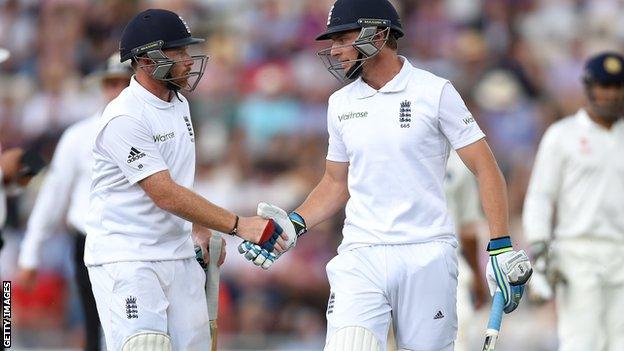 England have had two very good days in the third Test against India in Southampton.
So often this summer they have manoeuvred themselves into positions of great potential, only to let them slip.
That was the concern at the close on the first day, when they sat 247-2, but to then move on to 569-7 declared and have India 25-1 at the end of day two means they have a good chance of levelling the series.
Just like Alastair Cook on Sunday, Ian Bell was a senior player who delivered when in need of a score.
Similarly to Cook, who was dropped early in his innings, Bell had some luck when he should have been given out lbw for nought on the first evening but, starting Monday on 16, he went on to play very well.
Former England captain Michael Vaughan on BBC Test Match Special
"It was going to be a matter of time before Jos Buttler played Test match cricket. What you see is a guy who reads the game really well. He needs a bit of time to get going, get his eye in and read the pace of the pitch. Over time, he is going to be an absolute match-winner in Tests and one-day cricket for England. When he gets in he is going to drive captains nuts. He's an exciting talent."
An out-of-form Bell is not too dissimilar to an in-form Bell. Perhaps when the runs aren't flowing he walks at the ball and edges behind or gets bowled more often, but he still plays in much the same way.
At his best, though, the Warwickshire man is one of the most aesthetically pleasing players England have had for a long time and this hundred was typical of the man.
There was beautiful driving, strength off the pads and those lovely late cuts through third man. He's been through a rough trot, without a Test hundred in 19 innings, but this should see his confidence restored.
Bell was at the other end for Moeen Ali's dismissal, one that was freakish yet still showing a weakness against the short ball.
Twice already this summer, Moeen has been caught after turning his back on bouncers and here he attempted a hook and got a toe-end to second slip.
Yes, it was unfortunate, but it was also a poor shot, an attempt to play a ball that was wide of the off-stump through the leg side.
Word can spread quickly around the international circuit if a player is perceived to have a fault, particularly if it is against short bowling. For now, Moeen has to avoid the bumpers, duck and weave, even if that is against his natural instincts to attack.
Former England batsman Geoffrey Boycott on BBC Test Match Special
"Moeen has a problem with the short stuff. He does not handle it. On a slow pitch it will not hurry you, and there is better bowling to come with Australia and South Africa. He needs to practice looking at the ball in the nets, today he did but he picked it wrong. When you are not comfortable, you make bad decisions."
Listen to Geoffrey and Jonathan Agnew review the day on the TMS podcast
Moeen was replaced at the crease by debutant Jos Buttler, another naturally aggressive batsman who gave us a glimpse of the exciting potential he possesses with 85 from 83 balls.
However, he could and probably should have been on his way for a duck. Edging Bhuvneshwar Kumar low to Ajinkya Rahane at second slip, Buttler appeared to be satisfied that the ball had carried and began to walk off.
But, for some reason, he was told to wait and, when the third umpire looked again, Buttler was reprieved.
Who intervened? If it was the on-field umpires, they had no right because Buttler was happy to go.
After that, the inevitable happened. Even though most of us looking at the replays thought the ball had carried to Rahane, the third umpire, as always seems to happen in these situations, sided with the batsman.
To be fair to Buttler, from there, he played some great shots. Perhaps playing more loosely than he normally would because the situation required quick runs, he was given two more lives - a Shikhar Dhawan drop at slip and an inexplicable Mahendra Dhoni missed stumping.
In between, Buttler displayed the powerful hitting that we've seen him produce in limited-overs cricket, hitting Ravindra Jadeja for a straight six and twice clearing the ropes off poor Pankaj Singh, who deserved better than his 0-146.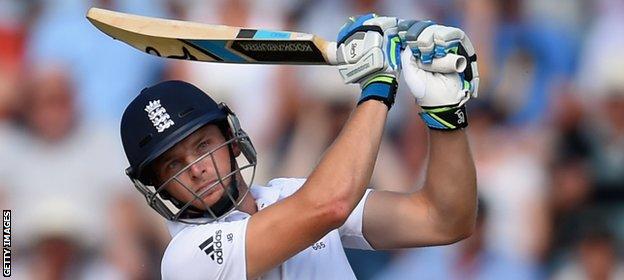 Buttler gave us a glimpse of how he will play and what he is capable of, but, in future, we also need to see that he can produce the type of backs-to-the-wall innings that Matt Prior did when the situation required.
He must be able to adapt, to demonstrate a technique that survives when England are in trouble.
For now, though, we should enjoy the late pyrotechnics that thrust England towards that declaration, which was then built on by James Anderson having Dhawan caught at slip.
Anderson and the rest of the England seamers should get more from this pitch than the India pace attack did, while there are some signs of turn and bounce for Moeen.
It's too early to say if England have turned the corner, but the first two days have been encouraging. Now it's up to the bowlers to perform better as a unit than they have so far this summer.
Jonathan Agnew was speaking to BBC Sport's Stephan Shemilt.