England's Moeen Ali warned over pro-Gaza Test wristbands
Last updated on .From the section Cricket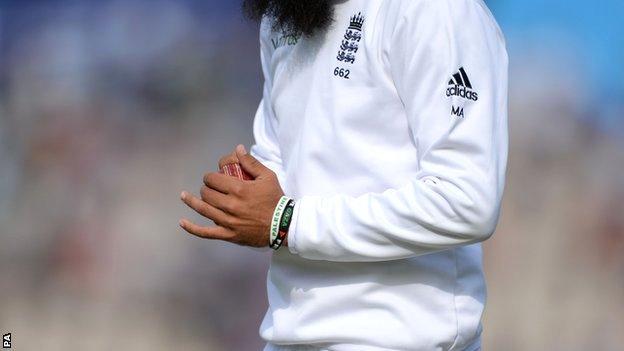 England batsman Moeen Ali has been warned not to wear wristbands showing support for Gaza during the third Test with India any more.
The 27-year-old wore bands saying "Free Palestine" and "Save Gaza" on the second day in Southampton.
International Cricket Council rules state players should not wear messages relating to "political, religious or racial activities" during matches.
A spokesman told BBC Sport Moeen was "warned not to wear the bands again".
The ICC added: "Moeen Ali was told by the match referee that whilst he is free to express his views on such causes away from the cricket field, he is not permitted to wear the wristbands on the field of play and warned not to wear the bands again during an international match."
The England and Wales Cricket Board had earlier defended the Worcestershire left-hander for wearing the wristbands, saying: "Moeen has done nothing wrong."
According to Rule 19F of the ICC Clothing and Equipment Rules and Regulations, players should not convey messages with their clothing unless approved in advance by the player's official board, but approval would not be granted for political messages.
Gaza saw one of its heaviest nights of bombardment on Monday, three weeks into an Israeli offensive against Palestinian militant group Hamas.
Palestinian officials say 1,115 Palestinians, most of them civilians, have been killed in the fighting since 8 July while Israel has lost 53 soldiers and three civilians - two Israelis and a Thai worker.
The Gaza Strip, sandwiched between Israel and Egypt, has been a recurring flashpoint in the Israel-Palestinian conflict for years.