Trent Johnston to leave Ireland women's post
Last updated on .From the section Cricket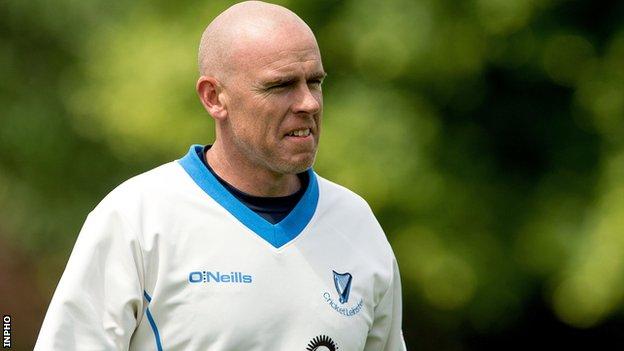 Trent Johnston is stepping down as coach of the Ireland women's team and Leinster Lightning in order to take up a post in his native Australia.
Johnston has accepted a coaching job with Cricket New South Wales and will begin a two-year contract in September.
The 40-year-old former Ireland captain was appointed women's coach just seven months ago.
"I didn't go looking for the switch but now that it's happened, I'm relishing the challenge," said Johnston.
Johnston ended his international career last December after taking 273 wickets and scoring 2,610 runs in 198 appearances for Ireland.
Cricket Ireland kept Johnston on board as head women's coach as well as continuing in his Leinster Lightning post.
Johnston will also have a dual role for the state in which he grew up, assisting NSW senior coach Trevor Bayliss and serving as a pathway coach.
He added: "It's a wonderful opportunity for myself and my family and one that I simply can't pass up.
"I'm looking forward to what I suppose is a homecoming for me, having started my cricket career at NSW what seems like a lifetime ago.
"I'm going to an organisation that is steeped in tradition and history, and my birth state.
"I will miss Cricket Ireland and its people, sponsors, and fantastic supporters. Everyone has been amazing to me and my family over the past 10 years, and I'll never forget that.
"I've loved every minute coaching the women's team, and we've grown and developed together since the start of the year. The squad are making huge strides both as individuals and as a team, and I'll really miss them all."
Johnston will relinquish his coaching roles with Cricket Ireland and Leinster Lightning in September.