Marcus North: Madsen backs Derbyshire's Chanderpaul replacement
By John Evans
BBC Kick Off reporter
Last updated on .From the section Cricket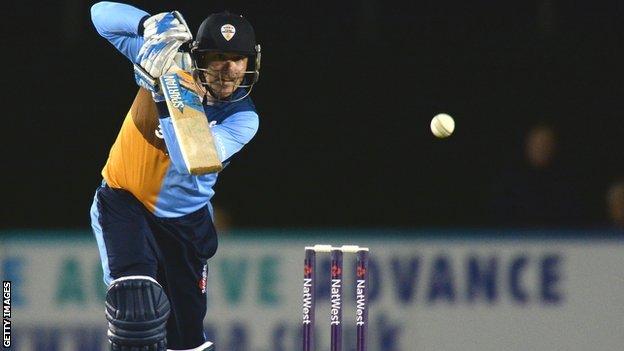 Former Australia batsman Marcus North can fill the gap left by Shivnarine Chanderpaul's departure, according to Derbyshire captain Wayne Madsen.
North had previously only played in T20 games, and when the Guyanese batsman was unavailable for selection.
"Marcus is a quality one-day player. He got a lot of runs in T20," Madsen said.
"He is an international cricketer who scores runs comfortably and has been successful for Glamorgan over here and Australia back home."
Derbyshire have won their first two matches in the One-Day Cup, the new 50-over domestic competition.
Madsen, who scored back-to-back centuries in the wins over Hampshire and Leicestershire, said the tournament has come at the right time after a tough start to the season.
Derbyshire finished bottom of the North group in the T20 Blast and have only one won three games so far in County Championship Division Two.
"It's been something new, something fresh for us to get our teeth into," he explained.
"It gives us a lot of confidence that we've done it without Shiv. Yes, he's contributed, but it's been a whole team effort over the last couple of games."
Derbyshire began the One-Day Cup on minus two points after suffering a points deduction after preparing a "poor" pitch in the YB40 game against Durham last season.
Madsen added: "We knew we started two points down, so there's nothing to lose. We can go out and express ourselves and just play."