England v India: How everything changed for Cook's men
By Stephan Shemilt
BBC Sport at the Rose Bowl
Last updated on .From the section Cricket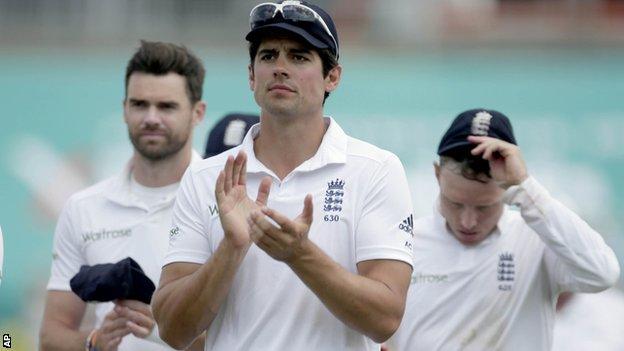 If you don't become a bad side overnight, how long does it take?
One Test? A series? What about 10 matches and 354 days?
When Stuart Broad had Australia's Peter Siddle caught by James Anderson to seal a third successive Ashes triumph at Chester-le-Street last August, it seemed inconceivable that England would have to wait almost a year for their next win.
The downward trajectory was not so much a slide, more the steepest of helter-skelters, with the out-of-control England team losing player after player and showing few signs of stopping.
England's wait for a Test win since August 2013

5th Test v Aus (h) drawn

5th Test v Aus (a) lost by 281 runs

1st Test v Aus (a) lost by 381 runs

1st Test v SL (h) drawn

2nd Test v Aus (a) lost by 218 runs

2nd Test v SL (h) lost by 100 runs

3rd Test v Aus (a) lost by 150 runs

1st Test v India (h) drawn

4th Test v Aus (a) lost by 8 wickets

2nd Test v India (h) lost by 95 runs
Following the 95-run defeat by India at Lord's in the second Test, it seemed that anyone with access to a microphone or newspaper column was calling for captain Alastair Cook to become the next to fall.
Then came the third Test in Southampton and a dominant 266-run win.
What changed? Everything.
Oh captain, my captain
Only Cook, who was bullish in his public talk of not quitting, will know how close he was to jacking it in.
Indeed, when the skipper edged Pankaj Singh towards Ravindra Jadeja at third slip when on 15 midway through the first morning, he was probably thinking of what he'd order to drink in the last-chance saloon.
Jadeja dropped a dolly, Cook told the barman not to bother and, from there, both he and England grew in stature.
If his first-innings 95 was a tense grope in the dark for the lost car keys of form, then his second innings 70 not out was getting back behind the wheel, thanks to powerful sweeps off the spinners and deft guides to third man.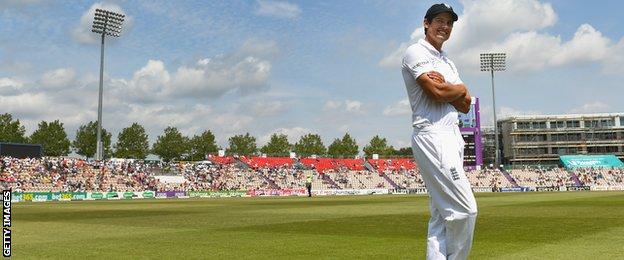 Cook was back and it was no coincidence that England arrived with him.
"When Cook makes runs, it gives England a platform and lifts the dressing room," former England batsman Geoffrey Boycott told Test Match Special. "His batting is the focal point - when he bats well, it makes it easier for the team."
Though no win in 10 was clearly part of the weight on Cook's shoulders, his position as captain was in question mainly because of his lack of runs.
After all, he was still the same skipper that led England to an historic win in India and then the Ashes, only with a much-changed, developing team. Inconsistency of results was always more likely to be tolerated than his personal failures.
However, batting and skippering are inextricably linked. When Cook was short of runs, so too was he short of inspiration.
When the batting was in order, it was inevitable that some of his decisions would look Midas-esque.
Moeen Ali's series bowling figures

1st innings

2nd innings

1st Test, Trent Bridge

18-0-97-1

28-4-105-3

2nd Test, Lord's

14-2-38-1

11-3-28-2

3rd Test, Rose Bowl

18-0-62-2

20.4-4-67-6

Series total

109.4-13-397-15

(average 26.46)
The early use of Moeen Ali, the hunch of throwing the ball to Joe Root, moving fielders to positions where catches were presented only one ball later. Less a captain, more a clairvoyant.
"Everything Cook has touched has worked," said former England captain Michael Vaughan. "To score 165 runs in the match and captain the side the way he has, under pressure, he deserved to be man-of-the-match."
With a little help from my friends...
Cook's task of leading an inexperienced side was made all the harder by the fact his battle-hardened lieutenants, Ian Bell, Anderson and Broad, had been below par for most of the summer.
Before Southampton, Bell had managed only 476 runs in his previous 19 innings, while the England pace attack, led by Anderson and Broad, was outbowled in the defeats by Sri Lanka at Headingley and India at Lord's. A recipe for trouble when six of your XI have not won a Test between them.
At the Rose Bowl, though, the three senior pros stood up to support their captain. Bell plundered 167 in the first innings, while Broad and Anderson shared 10 wickets between them.
"You want your big, more experienced players to put their hands up, but that hasn't happened this summer," said former England fast bowler Steve Harmison. "This week, all four of them have produced."
Anderson, Broad and Bell v India, 2014 series

James Anderson

Stuart Broad

Ian Bell

1st Test, Trent Bridge

3-123 & 1-47

2-53 & 2-50

25 & did not bat

2nd Test, Lord's

4-60 & 1-77

2-79 & 1-93

16 & 1

3rd Test, Rose Bowl

5-53 & 2-24

3-66 & 0-22

167 & 23
Anderson, in particular, showed his class, consistently swinging the ball at a full length with the occasional use of a hostile bouncer to rebound from a disappointing display at Lord's when England were beaten on a made-to-order green wicket.
"Jimmy's been at the batsmen, really hitting the deck, and it makes such a difference," said Boycott.
"He ran in with real intent - he's showed real aggression in this Test match. Not with his mouth, but with his bowling."
With the experienced quartet delivering, the fledgling other members of the team, none of whom are older than 27, were able to produce the encouraging performances seen earlier in the summer, only this time in a winning effort.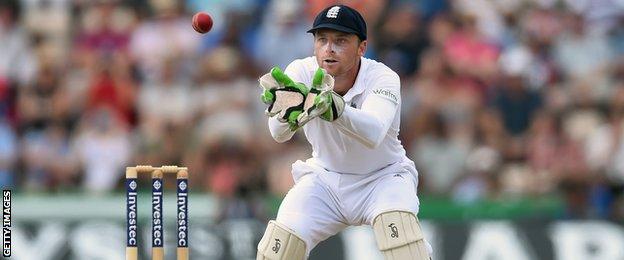 Gary Ballance's 156 was his third century in five Tests, Jos Buttler bludgeoned 85 on debut, while Moeen Ali spun England to victory with career-best figures of 6-67.
"It's been a great team performance, led by the senior players," said former England spinner Phil Tufnell. "The other guys, who have been playing as well as anyone, slot in around them.
"It shows that there must be a great spirit because everyone has pulled together."
...and Lady Luck
Would it have been different had Jadeja held that catch off Cook? Or if Bell hadn't escaped being given out lbw when on nought?
Might England have gone 2-0 down and be looking for a new captain?
"Once India put down Cook on the first morning, England kicked on," said Boycott. "From the body language of India on the first morning when that catch went down, I thought 'aye aye'.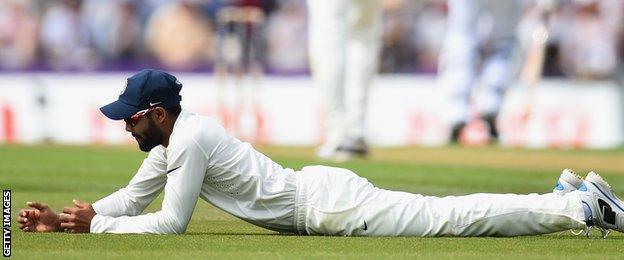 "Bell then had that lbw, when he was plumb, and he went on to make 167."
England, though, can rightly say they did not have all the rub of the green. In both innings, Ballance was wrongly given out caught when no bat was involved.
"Maybe England have had a run of fortune, but you can't put the win down to that," said Tufnell.
What next?
For all their dominance in Southampton, England are only level at 1-1 with two Tests to play. There are still issues to be addressed.
Sam Robson is in need of a score at the top of the order, while neither Chris Woakes nor Chris Jordan managed to take a wicket in the third Test.
With Liam Plunkett and Ben Stokes also both tried this summer, England have not properly identified the best pair of pace bowlers to support Broad and Anderson, a problem that will be exposed if Anderson is banned for his altercation with Jadeja.
"I really feel the series could depend on that decision," said Vaughan. "Jimmy Anderson leads the attack and sets the tone.
"Every time he gets the ball in his hand, I sense something is going to happen. He would be such a big loss."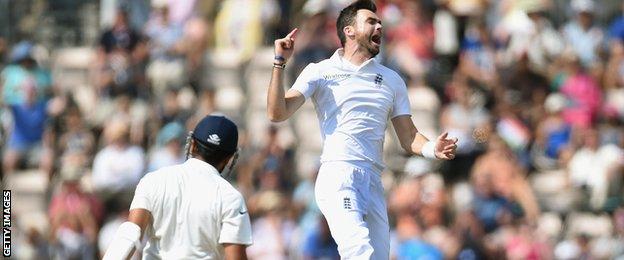 With or without Anderson, England's challenge is to replicate their display on the south coast at Old Trafford and again at The Oval before taking an eight-month break from Test cricket to focus on the World Cup.
"I see a different team," said Boycott. "Similar players, but different performances.
"We have been patchy and it's hard to win Tests when you are patchy.
"Where do we go from here? Can they do it again? Can we start to get more consistent performances all round?"
How long does it take to become a bad team? How long does it take to become a good one again?
England are about to find out.