Josh Cobb: Leicestershire must show greater ambition
Last updated on .From the section Cricket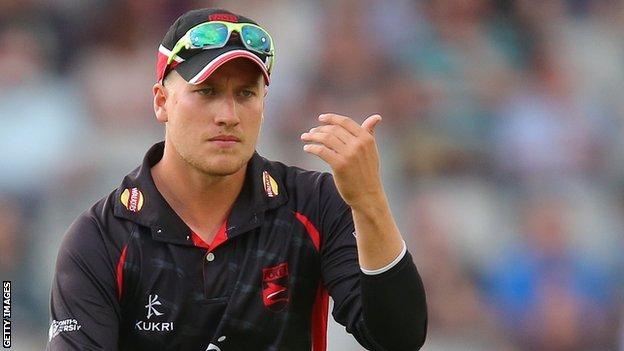 Out-of-contract one-day captain Josh Cobb insists he wants to stay but says Leicestershire must show greater ambition to keep their best players.
All-rounder Cobb, 23, and several other star names including Nathan Buck, Shiv Thakor and Angus Robson are yet to sign new contracts for the 2015 season.
"I don't want to look elsewhere and I haven't bothered looking elsewhere," Cobb told BBC Radio Leicester.
"I just want a strong side around me that can compete and win trophies."
Leicestershire have not won in the County Championship since September 2012, and are bottom of the Division Two table.
Cobb, who is expected to miss the rest of the season because of injury, added: "I'm a passionate Leicestershire fan first and foremost and I am playing for the county I support and I would love nothing more than to spend the rest of my career here and see us perform well.
"But myself and a couple of others want to see some improvement and initiative taken by people above us to bring in people around us who can help us achieve the same ambition.
"I think the ball is in their court at the minute. If things can get done sooner than later then it will entice people to stay. That is what I want."
Cobb, who has been linked with a move to Northants along with Buck, is convinced Leicestershire are "not a millions miles away" from being a good team, but says they need to bring in more experience.
"I think we have more talent than some of the squads that are potentially pushing for promotion and winning things. But they have key players and senior players who are standing up and performing and when they don't they have youngsters here and there that put their hands up as well.
"We need the belief and couple of smart buys to help drive us."