England v India: Alastair Cook considered position amid poor run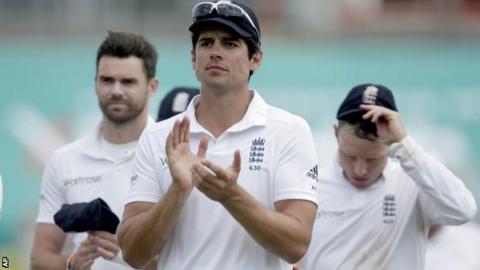 England v India: Fourth Test
Dates: 7-11 August
Coverage: Live commentary on BBC Radio 5 live sports extra and Radio 4 LW from 10:25 BST, text commentary on BBC website
Alastair Cook questioned his position as England captain in the past few weeks before deciding he "could not live with" walking away from the job.
Cook, 29, went into the third Test with India at Southampton under pressure to stand down, short of runs and leading a team without a Test win in a year.
But the England captain enjoyed knocks of 95 and 70 to help his side to a solid 266-run win in the third Test.
"I still feel as if I have a lot to give," Cook said.
"It's a great job to have, the England captaincy. To throw it away just as it gets really tough. I couldn't live with that decision at that time."
England's 10-match winless sequence in Tests prompted calls from a number of pundits for Cook to step aside.
Cook's own troubles with the bat were central to the criticism - he remains without a Test century in 29 innings - but it was his perceived tactical shortcomings that prompted the most barbed comments.
Asked by BBC Sport's cricket correspondent Jonathan Agnew if he had questioned his own position, Cook said: "It was only natural that you did."
He added: "It's always hard as a captain... you're saying stuff you're not backing up yourself. Hopefully the guys respect me enough in the dressing room.
"It makes it easier when you score runs, you have more authority and that's what leadership is, leading from the front."
The fourth Test begins at Old Trafford on Thursday, with Cook able to count on the services of James Anderson after the bowler was cleared of abusing and pushing Ravindra Jadeja during the first Test at Trent Bridge.
England's wait for a Test win since August 2013
Aug 2013: 5th Test v Aus (h) drawn
Jan 2014: 5th Test v Aus (a) lost by 281 runs
Nov 2013: 1st Test v Aus (a) lost by 381 runs
Jun 2014: 1st Test v SL (h) drawn
Dec 2013: 2nd Test v Aus (a) lost by 218 runs
Jun 2014: 2nd Test v SL (h) lost by 100 runs
Dec 2013: 3rd Test v Aus (a) lost by 150 runs
Jul 2014: 1st Test v India (h) drawn
Dec 2013: 4th Test v Aus (a) lost by 8 wickets
Jul 2014: 2nd Test v India (h) lost by 95 runs
The International Cricket Council (ICC) on Wednesday said it would not appeal against the decision to clear Anderson.
And Cook praised the Lancashire seamer for the way he has dealt with the issue.
"I think it has affected Jimmy a little bit off the field, because he's just desperate to play for England," said Cook.
"But his performances on the field have been exceptional.
"He was just desperate to not get banned. It's great that this is now behind us."
The series is level at 1-1 with two matches to play, and even in the aftermath of the Anderson-Jadeja decision, Cook does not expect events to boil over in Manchester.
"I don't think so. This has been hanging over us the last couple of games and both sides have dealt with it really well on the field," he said.
India captain Mahendra Singh Dhoni has called on his players to forget about the altercation between Anderson and Jadeja.
"It is really important not to drag one thing into another," Dhoni told a press conference on Wednesday.
"Irrespective of what has happened, in the last game we were only concentrating on cricket. Once you are a part of the Indian cricket team it is one thing that you learn to do very well."
Anderson has been urged by former England batsman Geoffrey Boycott to stop his habit of sledging opposition players.
Those comments echoed a general request by the ICC for players and staff to "not shirk their responsibility" on the subject of abusive language, and Dhoni says he will keep a close eye on such confrontations going forward.
"If someone is consistent with his abuse he should be punished, it doesn't matter who he is," Dhoni said.
"We have to monitor it constantly, but at the same time it's important that we play strong cricket."