John Holder: James Anderson 'lucky' to escape punishment
By Sam Sheringham
BBC Sport at Old Trafford
Last updated on .From the section Cricket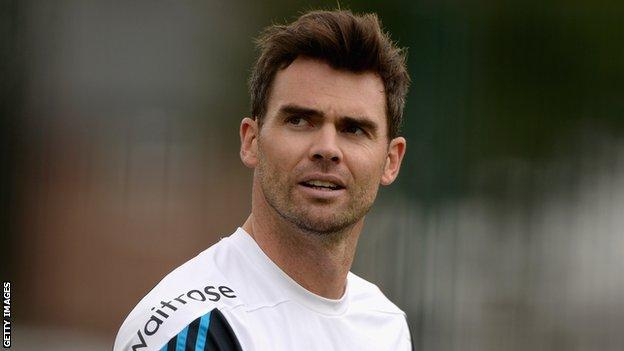 England bowler James Anderson was "extremely lucky" to escape punishment for his altercation with India's Ravindra Jadeja, according to former Test umpire John Holder.
"I think Jimmy has been extremely lucky to have got away with it," Holder said.
"There's got to be zero tolerance. At this level, fines don't work, you've got to suspend players if necessary."
The Anderson-Jadeja case was dismissed by independent commissioner Gordon Lewis, partly because of what he described as "hopelessly biased" evidence from the two sides.
Anderson admitted to swearing at Jadeja and pushing him towards the India dressing-room, but insists he was reacting to aggression from his opponent. India say their man was the victim of unprovoked verbal and physical abuse.
The International Cricket Council opted not to appeal against the verdict, clearing Anderson to play in the fourth Test against India at Old Trafford where his three wickets on the first day included that of Jadeja.
Holder, who stood in 11 Tests and 19 one-day internationals between 1988 and 2001, believes the decision sends out the wrong message.
"The people who run the game need to be stronger so that when players are reported, instead of trying to brush it under the carpet, it gets dealt with," he added.
Anderson v India, 2014 series bowling figures

1st Test, Trent Bridge

3-123 & 1-47

2nd Test, Lord's

4-60 & 1-77

3rd Test, Rose Bowl

5-53 & 2-24
"For me there is no place in the game for bad behaviour, abusive language towards opponents or dissent towards umpires, and there certainly is no place in the game for players making physical contact.
"There is a developing culture of bad behaviour in the game that needs to be stamped out by strong management. If fines don't work, then bans. If the players know the ultimate sanction for bad behaviour is suspension, they will stop doing it."
Holder believes there need to be stronger deterrents to stop players such as Anderson relentlessly sledging opposing batsmen on the field.

"Jimmy yaps too much at opponents," he said. "I don't understand why when you are playing against someone you have to be mouthing off all the time.
"I'm told he sledged young Yorkshire opening batsman Adam Lyth during the Roses game. There is too much of that in the game."
Holder, who now umpires in the Central Lancashire League, says poor standards in international cricket is filtering down to lower levels.
"Player behaviour is awful," he added. "There is a lot of inane chatter, dissent towards umpires and the use of the "F" word has become far too prevalent. It needs to be stamped out by strong management and bans on players."