England v India: Moeen Ali at heart of his side's revival

By Jonathan Agnew
BBC cricket correspondent
Last updated on .From the section Cricket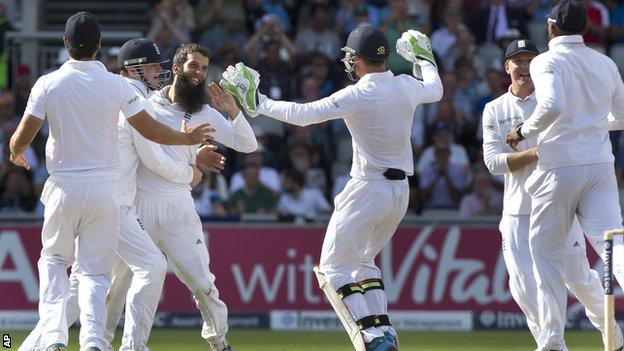 The transformation of Moeen Ali from part-time spinner to match-winner has been central to England's remarkable comeback in their Test series against India.
When Moeen was brought into the side at the start of the summer, expectations of his bowling were low because his record suggested he was primarily a batsman who was unlikely to spin anyone out.
Captain Alastair Cook, so accustomed to having Graeme Swann's world-class off-spin at his disposal, clearly didn't fully trust the new man, and when Moeen bowled he did not really suggest he was worthy of his captain's trust.
Instead of holding down an end and allowing the seamers to rotate, he was quite expensive and hardly bowled a maiden.
Former England captain Michael Vaughan on BBC Test Match Special
"Moeen is working out how to bowl in Test cricket, he's bowling it quicker so he's not giving the batsmen a chance to just milk him and he's getting plenty of revolutions on the ball."
Listen to Geoffrey Boycott and Jonathan Agnew review the day's play on the TMS podcast
Fast forward a couple of weeks and Moeen is not only bowling more tightly, he is threatening India's top-order batsmen and taking wickets.
He has been working with Ian Bell, who is such a good player of spin, and the difference is remarkable. He has learned that you need to bowl a bit quicker in Test cricket and has found a much more testing line.
At times, India have been a bit blase about facing Moeen. They have taken him on and given him a few soft dismissals, but that has only helped to build his confidence.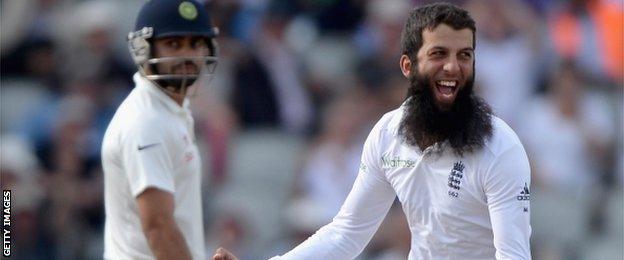 Now, when he comes on to bowl, he is giving it a good tweak in the knowledge that he can take wickets at this level.
From now on Moeen will be a lot more respected by Test batsmen. People are not going to be attacking him from the start and he may have to work a little harder for his wickets.
But he has made a brilliant start to life as a Test spinner and his next challenge is to transfer that success to his batting.
He does have an issue with the short ball but if he works as hard on that as he has on his bowling, I'm sure he will be fine.
Spinning in to the record books
In terms of days, it has been 58 since Moeen's debut, which makes him the quickest England spinner to get to 20 Test wickets
Moeen and his fellow bowlers will take plenty of plaudits for the way they ran through India after tea despite Stuart Broad's absence, but the platform was provided by a crucial partnership of 134 between Jos Buttler and Joe Root.
Buttler's innings of 70, his second half-century in his first two Test innings, was particularly pleasing because he played the situation so well.
We all know about his ramp shots, his ability to clear the ropes and take bowlers to the cleaners, but here he was knuckling down and playing for the team.
He showed he can suppress his natural instincts, adapt and play responsibly when required, and that is a very encouraging sign at this early stage of his Test career.
With England on such a high, and so many of their players finding form, it is amazing to think it was only three weeks ago that they surrendered so badly at Lord's.
People were clamouring for Cook to go, there was no light at the end of the tunnel and the team was on a road to nowhere.
To have turned things around so quickly - albeit assisted by some dreadful Indian batting - is a tremendous performance.
This is a developing team. There will be more ups and downs along the way, but they are making big strides in the right direction.
Jonathan Agnew was speaking to BBC Sport's Sam Sheringham.
Listen to Jonathan and Geoffrey Boycott review each day's play on the TMS podcast.