India: Farokh Engineer criticises 'embarrassing' side after defeat
Last updated on .From the section Cricket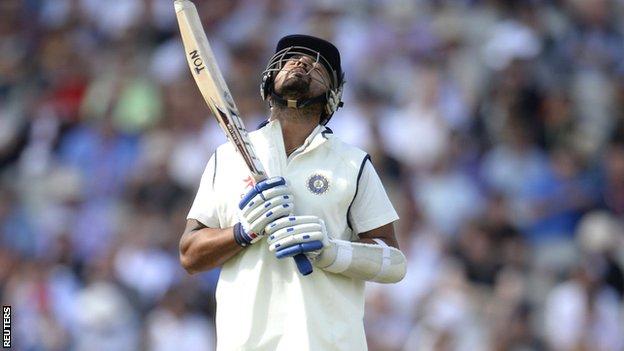 Former India wicketkeeper Farokh Engineer lambasted the team and coach Duncan Fletcher following Saturday's innings-and-54-run defeat by England.
Engineer, 76, who played 46 Tests for India between 1961 and 1975, told BBC Radio 5 live: "This was embarrassing,
"India shot them in the foot right from the moment they decided to bat on a green top surface.
"Fletcher is very, very highly paid, surely he can read the pitch and advise [captain Mahendra] Dhoni accordingly?"
After winning the toss and electing to bat at Old Trafford on Thursday, India were 8-4 in the sixth over and then lost their final nine wickets after tea on day three as England wrapped up victory with two days to spare to take a 2-1 lead in the series.
Former India captain Sunil Gavaskar on BBC Test Match Special
"There were was no backbone shown by India. They showed no determination, the dismissals were soft, there were no great deliveries, England were just persistent."
Read more from Gavaskar and the other TMS pundits
"India played without any care or passion, like having a Saturday afternoon slog," said Engineer, who also criticised the Board of Control for Cricket in India's refusal to allow the Decision Review System (DRS) in their matches.
"The DRS is absolutely haunting India because a lot of the decisions have gone against them. I don't know when they'll open their eyes and wake up. They've got to embrace DRS.
"The ICC [International Cricket Council] are just not firm enough, can they not put pressure on India? All the other countries have agreed to it, why can't you?"
India have a chance to level the series in the final Test at The Oval starting on Friday and will hope for an improvement from highly rated batsman Virat Kohli, who has scored only 108 runs in the series at an average of 13.5.
Engineer added: "There is only a bit of pride for because they've been humiliated. I dare not see the papers in India, they must be so critical, and rightly so.
"Virat Kohli came here with a great reputation and has just not taken off, he has been out to silly deliveries. And run-outs when you are trying to save a game? The mind boggles."