Glamorgan: Bowler Huw Waters forced to retire
Last updated on .From the section Cricket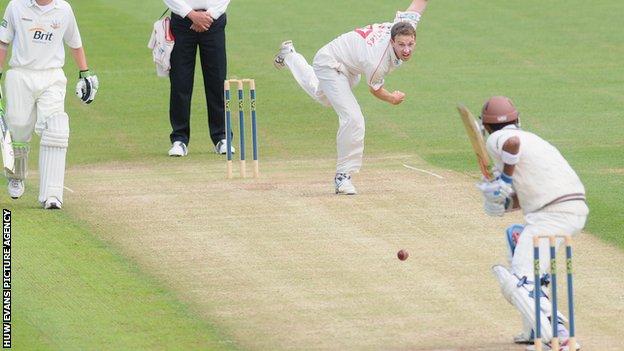 Glamorgan seamer Huw Waters has been forced to retire after failing to make a full recovery from illness.
Waters, 27, was diagnosed with exercise-induced dystonia, a disorder that causes involuntary contractions and spasms, and missed the 2013 season.
His attempt to return this year failed, leaving the player with no choice.
"It has been concluded that no treatment would have allowed me to perform at first-class level," said Waters.
"I am thankful for all the support I have received from everyone at the club.
"The patience and understanding they have shown is something I am very grateful for.
"I have to thank them for giving me the opportunity to live my dream to play cricket for Glamorgan and I wish the club well for the future.
Waters, who signed a new deal with the Welsh county in 2012, having been named their star four-day player in the same year, after finishing as the second highest wicket taker (39) with the third lowest economy rate (20.46).
Director of cricket and chief executive Hugh Morris said: "Huw's decision has been forced upon him and it is a great shame he has to retire at an age when a player would expect to have many more years left to play.
"With the ability to swing the ball from a young age, Huw was a regular for the England Under-19 set-up and without injury would have made many more appearances for Glamorgan.
"He was capable of outstanding spells with the ball and stubborn innings at the tail or as a night-watchman.
"He has been the consummate professional, capable of leading our attack, and his calm demeanour in both pressure and everyday situations means he will be sadly missed by the team and everyone at the club.
"We wish him well for the future."