MS Dhoni must go in India overhaul after England humiliation
By Vikas Pandey
BBC Monitoring
Last updated on .From the section Cricket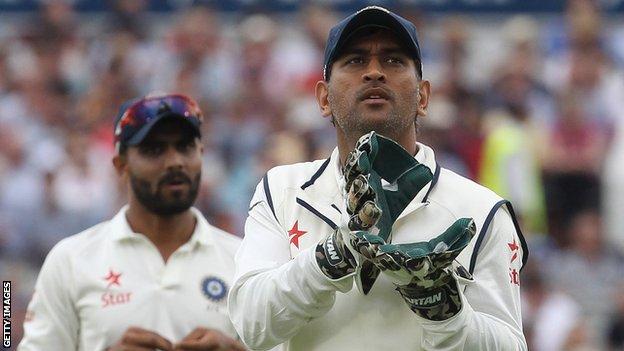 Three successive humiliating Test defeats against England have sparked calls for India captain Mahendra Dhoni and coach Duncan Fletcher to be sacked.
The crushing defeats have silenced the triumphant noises made in the Indian media after the tourists registered a historic win at Lord's on 21 July.
Dhoni's side won a Test match at the Mecca of cricket for the first time since 1986 and, in the process, ended a run of 15 away matches without victory stretching back to the tour of the West Indies in 2011.
But that now seems a distant memory given the lack of determination, discipline and application demonstrated by the Indians in the following three matches.
For many editorial writers, it's not the defeat but the manner in which India surrendered that is "depressing".
An opinion piece in The Times of India says Dhoni "has well and truly outlived his usefulness as a captain in the long form of the game".
Cricket is a religion in India and players are adored by their fans. But Dhoni's days as a worshiped cricketer now appear over as pundits and fans seem united in their demand for his sacking.
"Even Kapil Dev, Sachin Tendulkar and Sourav Ganguly were not spared the axe. And they never led teams that have played as poorly as those MS Dhoni has captained," Sanjeev K Samyal wrote in the Hindustan Times.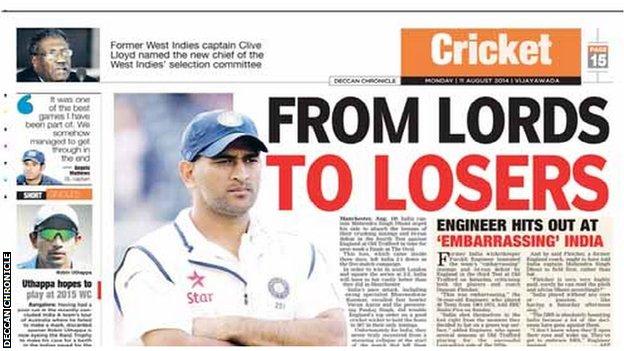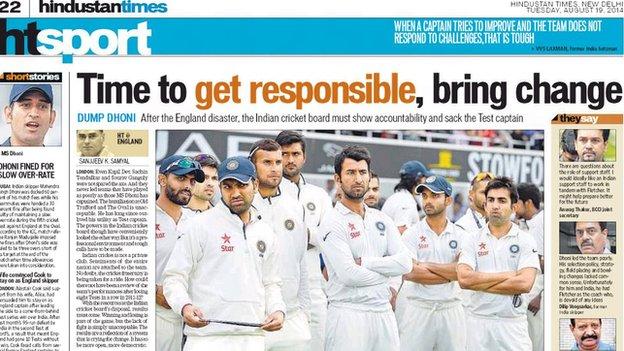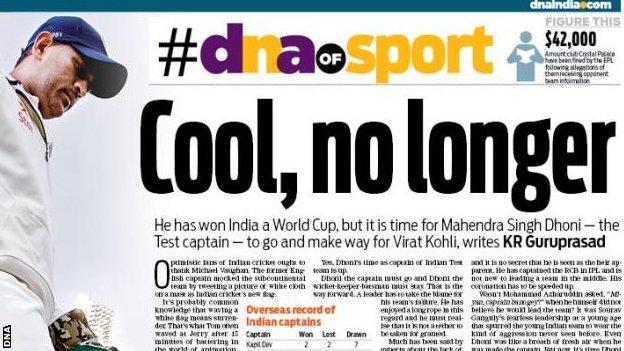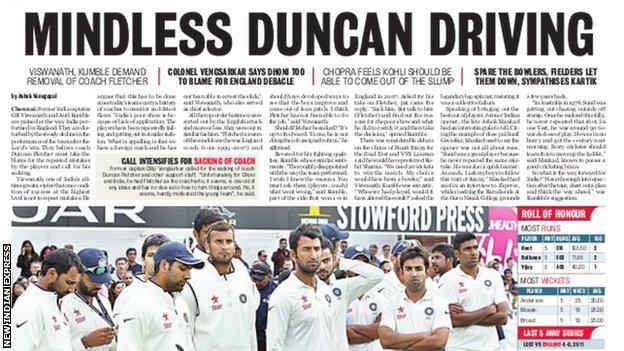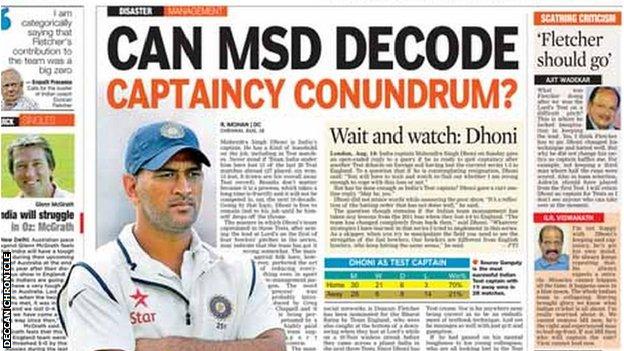 Samyal says cricket administrators have so far "looked the other way" but the time has come for a change because "Indian cricket is not a private club and sentiments of the entire nation are attached to the team".
Jamie Alter, the editor of gocricket.com, added: "Transforming from pushers to pedestrians in a week takes some doing.
"India's historic win at Lord's felt like a lifetime ago when they were bowled out for 94 on the final day at The Oval. In fact, it now seems almost insignificant."
But have India become an awful Test side all of a sudden?
Cricket writer Satwik Biswal feels their slide started after the triumph of 2011 World Cup win.
He point to the fact that, since then, India have played 18 Test matches outside their homeland, won two, lost 11 and drew five.
As well as Dhoni, Zimbabwean coach Fletcher is also facing calls to step down.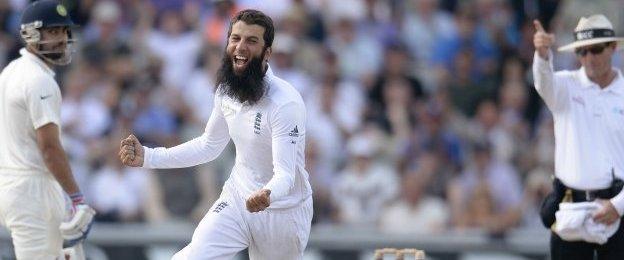 "The players have been repeatedly failing and getting out in similar fashion. What is appalling is that we have a foreign coach and he has not been able to arrest the slide," former Indian Test captain GR Viswanath told The New Indian Express.
India's batting line-up has also come under intense criticism for their "appalling performance" against both England's spin and fast bowling.
Spinner Moeen Ali caused problems for the tourists and successfully broke the myth that young Indian batsmen can play spin with elegance.
"India's batting spine is bending and thoughts of a reprise of last November's success against West Indies come October should be put on hold," Alter wrote.
Experts say young players such as Ajinkya Rahane, Cheteshwar Pujara, Shikhar Dhawan and Virat Kohli need to go back to domestic cricket to get their confidence back.
India are due to play a series against the West Indies in October and a four-match Test in Australia later in the year.
But experts say another debacle is in the offing if Indian batsmen are not able to correct their temperament and technique.
BBC Monitoring reports and analyses news from TV, radio, web and print media around the world. For more reports from BBC Monitoring, click here. You can follow BBC Monitoring on Twitter and Facebook.