England v India: Meek India fail to follow Mahendra Dhoni's lead

By Jonathan Agnew
BBC cricket correspondent
Last updated on .From the section Cricket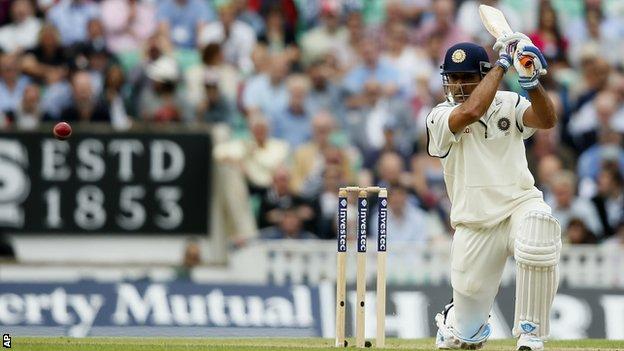 India were blown away meekly once again on the first day of the final Test at The Oval as England took a giant stride towards a third successive victory, and with it the series.
An outstanding 82 from captain Mahendra Dhoni spared India from total humiliation, but England's advance to 62-0 at the close ensured they are in total control.
If only more of India's batsmen had followed Dhoni's lead. While the captain was calm and controlled and did not get flustered when he played and missed, his team-mates were all at sea.
Admittedly, this pitch has been loaded in the bowlers' favour and is probably at the limit of what is acceptable, but you still have to knuckle down and play on it, just as England's batsmen have to try to cope on dust bowls in the subcontinent.
Part of the challenge of Test cricket is to be able to adapt to alien conditions, but too many of India's players were not up to that challenge.
Cheteshwar Pujara's innings was probably the lowest point for the tourists. His four from 19 balls was a really limp innings from a hugely talented player.
He is batting at number three, a pivotal position in any team, but he didn't look for a moment as if he wanted to be there before he was bowled by Stuart Broad.
Elsewhere, with the exception of Dhoni and the battling opener Murali Vijay, India's players seemed to be riddled by the doubts that have been creeping into their game since Southampton.
They seemed to be consumed by what they shouldn't do, rather than following Dhoni's example and playing each ball on its merits.
They have clearly been working on leaving a lot more deliveries but sometimes you can think so much about your game that you make basic mistakes. So it proved as Virat Kohli shouldered arms to a delivery from Chris Jordan and was trapped lbw in front of off stump.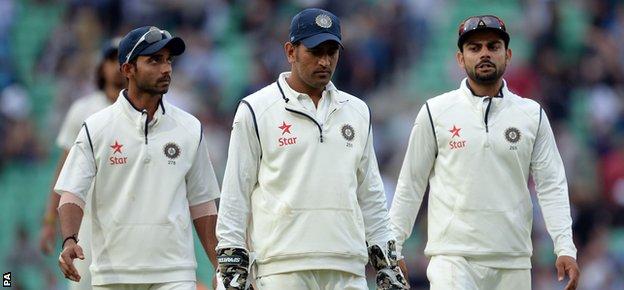 Kohli was one of three wickets for Jordan, with Chris Woakes also picking up three. England's change bowlers are improving all the time but they still lack the consistency of James Anderson and Broad and were probably allowed to bowl for a bit too long by captain Alastair Cook as Dhoni and Ishant Sharma put on 58 for the last wicket.
I'm sure Cook deliberately gave them an extra couple of overs to try to boost their confidence, but a more ruthless approach could have consigned India to an even lower total.
Cook will not be losing any sleep over that, especially after reaching 24 not out to help England close to within 86 runs of India's score.
With his team in sight of the series win, the England captain is a totally different person to the one whose position was under such scrutiny earlier in the summer.
When I spoke to him on Thursday, he laughed at my inadvertent innuendo about Broad's new "equipment" and seemed in a wonderfully relaxed frame of mind.
The pressure is off him, he is enjoying the job again and he is in charge of a very happy dressing room.
England are playing good cricket and just about everyone is contributing to their success.
Perhaps the biggest question mark before this Test was whether Sam Robson could score some runs to hold on to his place. But judging by the way he was timing the ball on Thursday evening, his luck could also be about to change.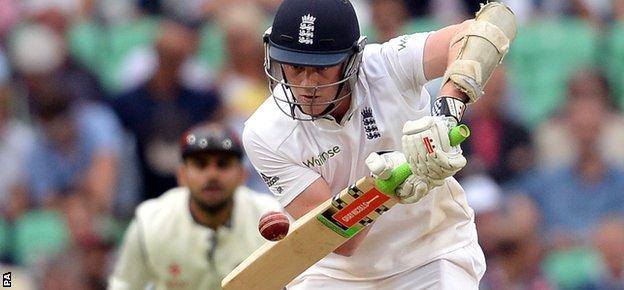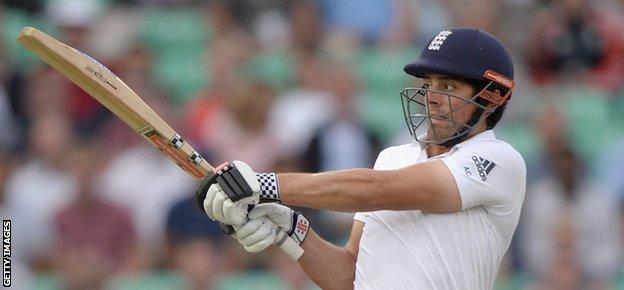 Jonathan Agnew was speaking to BBC Sport's Sam Sheringham.
Listen to Jonathan and Geoffrey Boycott review each day's play on the TMS podcast.