Matt Prior: England wicketkeeper sets date for Achilles surgery
Last updated on .From the section Cricket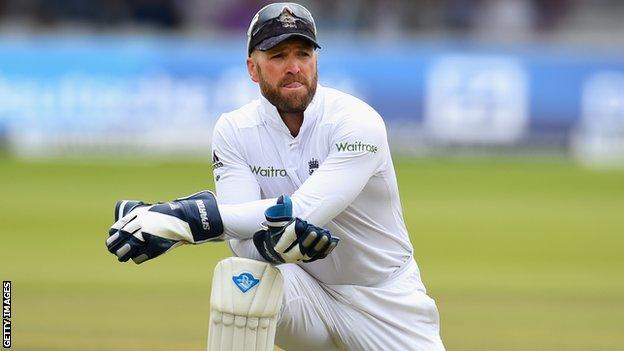 England wicketkeeper Matt Prior will undergo surgery on a long-standing Achilles problem next month.
The Sussex player will have the operation on 4 September and expects his recovery to take about four months.
Prior, 32, took a break from his England commitments last month in a bid to get back to full fitness.
"It was a massive decision, but I went as long as I could," Prior said. "So it's now time to get it right, get fit again and come back stronger."
In addition to the Achilles problem, Prior has also struggled with a torn quad and an injured hand.
"My Achilles has been the main issue, it's been pretty bad, to be honest," Prior, who has won 79 Test caps, added in an interview with Cricinfo.
When announcing he was to take time out from the game last month, Prior emphasised that he was not retiring but accepted that he might not get his England place back.
"It's not the end, but there is a long road back and it starts from 4 September with four months of rehab to get as fit as I possibly can," he added.
"It's been shown by specialists that I couldn't physically have gone on any longer. So it's now time to get it right, get fit again and come back stronger."
Prior, who made his Test debut against the West Indies in 2007, believes his replacement as wicketkeeper-batsman, Jos Buttler, has settled well into the England side after scoring half-centuries in his only two innings.
"I think he's done brilliantly," said Prior. "The one thing he has done that is massive for keepers is scoring runs. When you're scoring runs it takes pressure off your wicketkeeping."