India fined for slow over-rate after defeat by England
Last updated on .From the section Cricket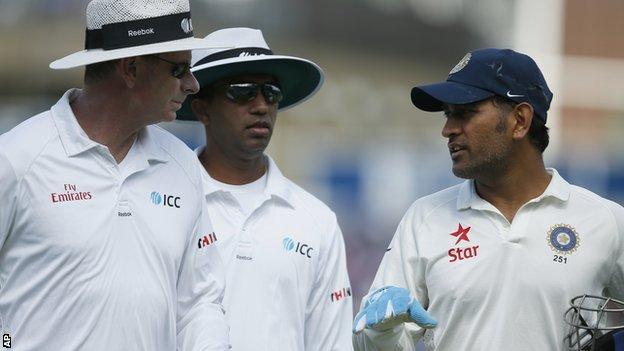 India have been fined for a slow over-rate during the fifth-Test defeat by England at The Oval.
Captain Mahendra Dhoni, 33, has been fined 60% of his match fee, while the rest of the team have been fined 30%.
Dhoni faces a one-match ban if found guilty of another over-rate offence in Test cricket during the next 12 months.
India, who did not contest the ruling by the International Cricket Council, lost the Test by an innings and 244 runs and the series 3-1.
An ICC statement said: "Mahendra Singh Dhoni's side were ruled to be three overs short of its target at the end of the match when time allowances were taken into consideration.
"In accordance with ICC Code of Conduct for Players and Player Support Personnel regulations governing minor over-rate offences, players are fined 10% of their match fees for every over their side fails to bowl in the allotted time, with the captain fined double that amount."