Mahela Jayawardene: Sri Lanka batsman says time is right to retire
Last updated on .From the section Cricket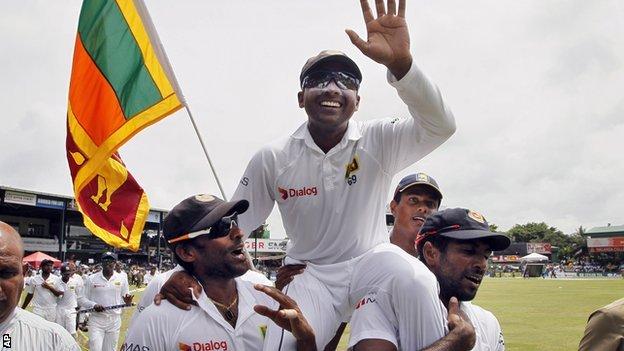 Second Test, Colombo (SSC) (day five):
Sri Lanka 320 & 282 beat Pakistan 332& 165 by 105 runs
Match scorecard
Sri Lanka batsman Mahela Jayawardene believes he was right to retire, following his final Test match outing.
The 37-year-old scored 54 in his last innings in the five-day format of the game in a victory over Pakistan as Sri Lanka won the two-match series 2-0.
"It's probably the right time to call it a day in Test cricket," he said.
"It's been a great journey, no regrets. I've thoroughly enjoyed it. the highs and lows have both made me a better person and a better cricketer."
Sri Lanka newspaper reaction to Jayawardene retirement
"The two boots that he is going to leave behind in the dressing room would be too huge for anyone to fit in easily but no cricketer would be able to replace that in-depth knowledge of the game that he was ever willing to share and the camaraderie that he shared with those who were there present with him for nearly two decades of international cricket."
(Sunday Times)
"He has proved to be a cricketer to come out of the top drawer and throughout his 17-year career has carved a name for himself to be ranked amongst the modern greats of the game."
(The Nation)
Jayawardene ends his Test career as the seventh highest run scorer in the longer format of the game, accumulating 11,814 runs from 149 Tests at an average of 49.84.
The right-handed batsman scored 34 centuries and 50 fifties in Tests, with six double tons and one triple century.
"It's time for me to move on and let the next generation take over," he added.
"It wasn't sudden and, at the same time, it was not thought for a long period.
"It's just that I always knew I'd realise one day it is time and once that came to mind I just went through the processes.
"I just always react to my gut feelings and go with them, that's always helped me.
"I asked a few people close to me about the decision and I'm quite happy the way they reacted as well.
"As a cricketer I guess you know the time's right."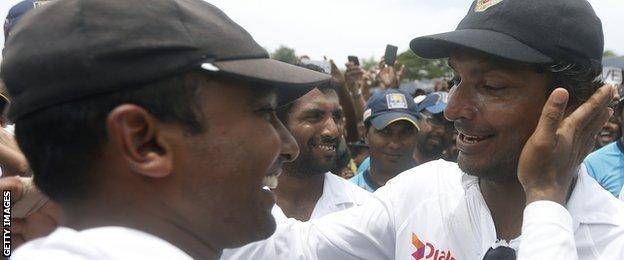 Jayawardene ended his career at Colombo's Sinhalese Sports Club ground and picked out his 374 against South Africa, which was his highest score, in 2006 at the ground and a 119 at Lord's against England in the same year as two of his notable innings.
Fellow Sri Lanka batsman and close friend Kumar Sangakkara said Jayawardene had "defined his era" as a batsman.
"It's going to be an incredible loss for Sri Lanka," said Sangakkara.
"The way Mahela Jayawardene has served the game of cricket and the Sri Lankan cricketing cause has been exceptional and I don't think that will be bettered in the long-term future."
Former Sri Lanka batsman and current selector Sanath Jayasuriya recalled Jayawardene's Test debut against India in 1997 when the side scored a record-breaking first innings score of 952-6.
"From that day onwards he has been playing," said Jayasuriya.
"As a captain, as a player, as a senior player, he has given his best all the time. We're going to miss him for sure - the way he played, his knowledge and his handling of players. A very smart cricketer."
Jayawardene said he will now get "fit and ready" to try and help Sri Lanka win the 2015 World Cup in Australia and New Zealand.
But he ruled out becoming a coach because he "doesn't have the patience".