England's Ashes issues: Moeen Ali, Sam Robson and bowlers
By Sam Sheringham
BBC Sport
Last updated on .From the section Cricket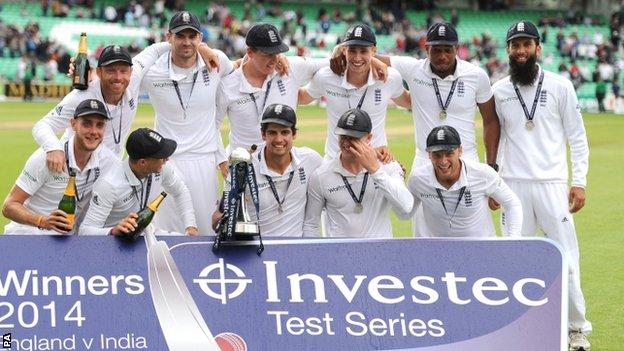 One of English cricket's most turbulent periods ended in joyous scenes at a sun-drenched Oval as Alastair Cook and his men won three successive Tests against India to complete their first series victory in a year.
The triumph has allowed the team to finally put the Ashes whitewash and its acrimonious aftermath behind them, and renewed optimism for the next series with Australia next year.
To come from 1-0 down to win 3-1 was an extraordinary turnaround for which England are being rightly feted, but it must be placed in the context of India's spineless collapse in the second half of the series.
So how far along are England on the road to recovery and which areas of the team still need work before the arrival of Mitchell Johnson, David Warner and company?
Back on track
The captain: Cook's role in the Ashes annihilation and the controversial sacking of Kevin Pietersen meant it was always likely to be a make-or-break summer for the England captain.
When England lost two and drew two of the first four Tests, including the 1-0 series defeat by Sri Lanka, Cook looked a dead man walking. But the skipper, thanks to a word from his wife and his own sheer will to succeed, stuck it out, and from the moment he was dropped on 15 by Ravindra Jadeja in the third Test in Southampton, never looked back.
He rediscovered his touch with the bat - passing 70 in three of his last four innings of the series, although still searching for that elusive hundred - and became a markedly more relaxed and decisive figure both on and off the field.
If doubts over his tactical captaincy still remain, the ability he has shown to withstand intense pressure and oversee a remarkable transformation can only bode well for the challenges that lie ahead.
Michael Vaughan's 2015 Ashes XI
1. Alastair Cook 2. Alex Hales 3. Gary Ballance 4. Ian Bell 5. Joe Root 6. Ben Stokes 7. Jos Buttler 8. Moeen Ali 9. Stuart Broad 10. Steven Finn 11. James Anderson
Batting order: When Jonathan Trott left the Ashes tour with a stress-related illness, England lost their most reliable number three in a decade. The choice of new boy Gary Ballance to fill such a key position when he did not bat there for his county side Yorkshire caused some surprise.
But showing the crucial ability to temper his game to the situation of a match, Ballance scored three hundreds and three fifties in seven Tests over the summer at an average of 70.40 and looks a solid bet to hold down the position for years.
"Ballance is a man for the tough situation because he's mentally strong," says former England batsman Geoffrey Boycott. "Ever since he's come to Yorkshire, he's been very good under pressure."
Ballance's elevation saw Joe Root moved down to number five - another switch that proved a masterstroke.
Root, so often found wanting against the new ball in the Ashes series at home and away, proved adept at digging England out of a hole and punishing a weary attack as he became only the third England batsman after Wally Hammond and Peter May to score a fifty in each Test of a five-match series.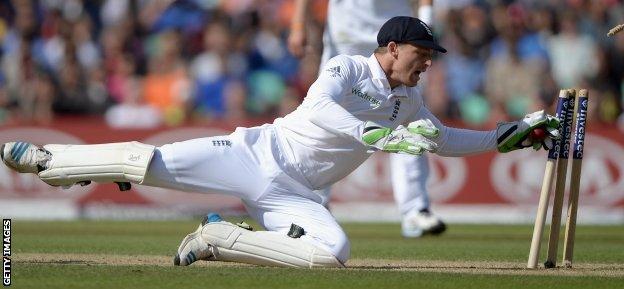 Work in progress
Jos Buttler: Handed his Test debut in Southampton following Matt Prior's decision to take a break from the game to address a longstanding injury, wicketkeeper Buttler made an explosive start with 85 off 83 balls to boost a massive England total. With his side in a trickier position at Old Trafford, he knuckled down to score 70 off 130 deliveries.
Although Buttler's keeping remains rough around the edges, it is no worse than Prior's when he first broke into the side. The athleticism and dexterity Buttler showed to run out Varun Aaron during India's second-innings collapse at The Oval suggest he has the raw skills to succeed.
"Buttler's batting has been outstanding," says BBC cricket correspondent Jonathan Agnew. "He has shown great maturity and he is a man to persevere with. His wicketkeeping is a work in progress. He hasn't dropped catches but there is work to be done.
"His leg side takes are untidy, but he shows flashes of quality that suggest he's clearly going to be good enough."
England's series batting averages

Innings

Runs

Average

Joe Root

7

518

103.60

Gary Ballance

7

503

71.85

Alastair Cook

7

298

49.66

Ian Bell

7

297

42.42

Stuart Broad

5

108

27.00

Sam Robson

7

165

23.57

James Anderson

5

112

22.40

Moeen Ali

6

124

20.66

*Minimum five innings
Moeen Ali: At the start of the summer, Moeen Ali was a batsman whose occasional off-spin never seemed to be trusted by Cook. By the end of the India series, however, the tables had turned.
Bowling quicker and tighter lines, Moeen twice bowled England to victory against seasoned players of spin, but his batting seemed to deteriorate. Vulnerable against the short ball and frequently uncertain over when to leave the ball, he averaged 20.66 in the series with a highest score of 39.
Former England captain Michael Vaughan has suggested that Moeen could drop as low as number eight for next year's Ashes, with Ben Stokes returning to the side at six. Boycott remains to be convinced by Moeen.
"Moeen still has work to do to convince he is a class act," says Boycott. "He got a hundred against Sri Lanka, but he only shows glimpses of good stuff. I like the wickets he's got, but you see the ways he's got out and you think 'what are you doing?' He needs to tighten up."
England's series bowling averages

Overs

Wickets

Average

James Anderson

199.1

25

20.60

Chris Jordan

61.2

10

22.30

Moeen Ali

123.4

19

23.00

Stuart Broad

175.5

19

23.00

Ben Stokes

87.5

7

33.14

Liam Plunkett

94.0

7

41.28

Chris Woakes

71.0

5

43.40

*Minimum 20 overs
Back-up bowlers: To some extent, the brilliance of James Anderson and Stuart Broad, who took 44 wickets between them in the series, masked the relatively meagre returns of the team's other seamers.
Liam Plunkett, Chris Jordan, Ben Stokes and Chris Woakes all played at least two Tests but none managed to take more than three wickets in an innings before Jordan delivered the final blows to an already punch-drunk India with four late dismissals at The Oval.
Broad's impending knee operation, although timed to ensure he misses no Test cricket, will give others the chance to gain international experience on the limited-overs stage.
Middlesex's Steven Finn was included in the squad for the last two Tests and will hope to prove in the one-day series against India that he has rediscovered enough pace and potency to rattle Australia next summer.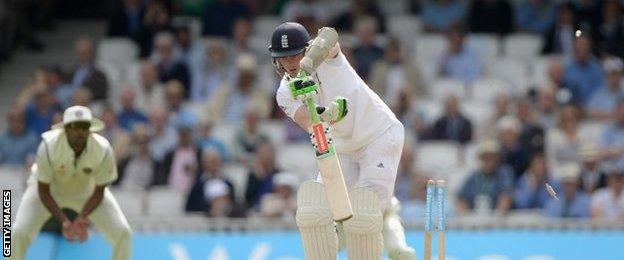 Back to square one
Opener: Since Andrew Strauss retired in 2012, England have tried Nick Compton, Root, Michael Carberry and Sam Robson as Cook's partners at the top of the order, without any of them doing enough to make the role their own.
Robson hit a century against Sri Lanka in his second Test but reached 50 only once in seven innings against India as his faulty footwork was repeatedly exposed by their seam attack.
Given what Agnew termed a "golden opportunity" to cement his place at The Oval on a cloudless morning, he missed a straight half-volley from Varun Aaron and was bowled.
"Sam Robson is not quite good enough," says Boycott. "I watched his footwork; he's crouching - he's getting lower. Everything is tense, a la Nick Compton. There are better bowlers out there and, if you have deficiencies, they will be exploited."
England's schedule before next summer

August-September 2014

5 ODIs & T20 v India (home)

November-December 2014

7 ODIs v Sri Lanka (away)

January-February 2015

ODI tri-series v Australia & India (in Australia)

February-March 2015

ICC World Cup (in Australia & New Zealand)

April-May 2015

3 Tests v West Indies (away)
Vaughan believes Nottinghamshire batsman Alex Hales, who is in line to make his one-day debut against India on 25 August, has the potential to be the free-scoring Test opener England have lacked since Marcus Trescothick.
"I would go with Alex Hales if he comes through the test of opening the batting in one-day cricket for England," says Vaughan.
"Look at what Trescothick did and what David Warner is doing for Australia. The best teams have always had aggression at the top of the order. Look at Langer and Hayden or Greenidge and Haynes."