Glenn Chapple: Lancashire win widens relegation scrap
Last updated on .From the section Cricket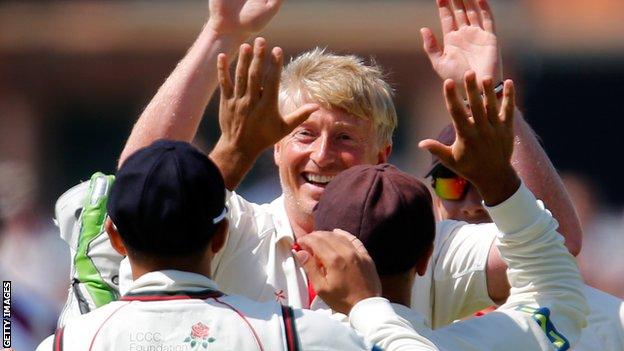 Lancashire captain Glenn Chapple says the nerve-shredding victory over Durham has dragged other sides into the Division One relegation battle.
Chapple told BBC Radio Manchester: "We are now sort of on par with Durham and we do have to play Middlesex and Sussex who are down near the bottom end.
"There are a lot of permutations now and we just have to concentrate on playing well."
Chapple, whose side have played one more game than those around them, said the win would improve their confidence going into the season run-in.
He continued: "We knew we needed to win. Whether it turns out we needed to win two out of our last four, or three out of four, remains to be seen.
"But we needed to start winning and the scenes in the dressing room show how important it was to the team.
"It shows our fighting spirit and hopefully we'll move on into the next few weeks and keep playing like that.
"We've spoken many times about turning close games into wins and it doesn't get any closer than that, but in the end I think we deserved it."
Chapple admitted the final few overs made nerve-wracking viewing.
"It was horrendous, I was just walking around the dressing room but I watched every ball," he added.
"We knew we had a decent chance of forcing a result and things went really well with the ball, but the pitch was showing signs of being on its last legs, and whilst you'd always back yourself to score a hundred, we played really well in the end.
"On the whole it was a team effort and we held our nerve - only just, but we held it and all we care about is the points. "