Graeme Swann: England are not good enough to win World Cup
Last updated on .From the section Cricket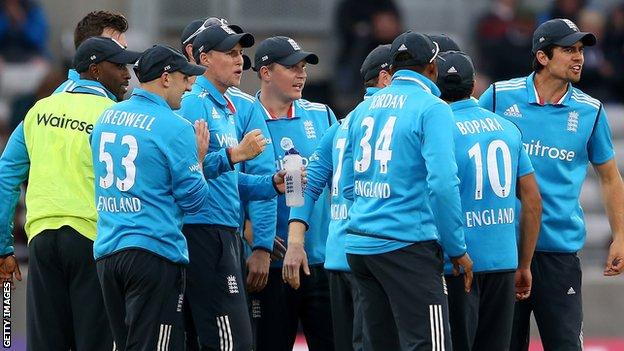 England have "no chance" of winning next year's World Cup in Australia and New Zealand, according to Graeme Swann.
The ex-England spinner believes the team needs a change in personnel, including captain Alastair Cook, to win the global 50-over tournament.
"We won't win this World Cup," Swann told Test Match Special.
"In four years' time, we might have a chance if we get in all the exciting players who have none of the baggage of the old-style brand we play."
Analysis by Graeme Swann
"I remember sitting in a team meeting - before the new fielding restrictions were brought in - and we were told that if we scored 239 we will win 72% of games. That meant the whole game was built on having so many runs by a certain stage and having so many partnerships. I used to shake my head, thinking 'this is crazy'. I remember Jonathan Trott getting close to a hundred in Colombo. We had batted to our plan almost perfectly and scored 229. Trotty got 86 in 115 balls. Everyone said "brilliant", then Sri Lanka knocked them off in 39.3 overs."
Swann, who took 104 wickets in 79 one-day internationals for England, wants to see the likes of Cook, Ian Bell and Gary Ballance replaced by Hampshire's James Vince, Surrey's Jason Roy and Nottinghamshire's James Taylor.
He is also pleased to see dynamic opener Alex Hales finally figuring in the selectors' one-day plans ahead of the World Cup next February and March.
Previously seen as a Twenty20 specialist, Hales was due to make his one-day international debut against India at Bristol on Monday before the match was abandoned after heavy rain - but Swann believes the Notts opener, 25, has had to wait too long for his opportunity.
"Hales should have been in this side for two or three years," said Swann. "He got 99 in a T20 international against West Indies at Trent Bridge.
"How did the powers-that-be not see that as the future of one-day opening bat?
"I used to sit in the changing room and always felt we were so far behind other teams because we play such an old-fashioned brand.
"Cook, Bell and Ballance are not players who will win you a World Cup. Hales will, as will James Vince, Jason Roy, Eoin Morgan and Jos Buttler. They are players I wouldn't want to bowl at. Players who could potentially get you 360/370 on the board."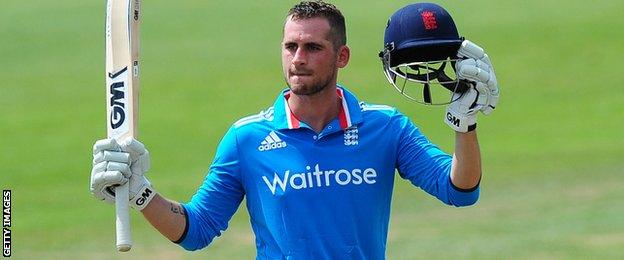 Test captain Cook, 29, is expected to lead the team into the World Cup, but Swann believes the opening batsman, who has scored 2,967 ODI runs at a strike-rate of 78.16, should have handed over control.
"I love Cookie dearly," he said. "But I don't think he should be bothering playing one-day cricket anymore. He doesn't need to. He's proved a very good point in Test matches. He should just enjoy being England Test captain. Let in the young people who just want to smash it everywhere.
"He's not the guy who should be opening the batting in one-day cricket for England. Vince should be doing it with Hales in a young vibrant team with Eoin Morgan as captain."
Michael Vaughan who, like Cook, had overall control of the Test and one-day sides in the mid-noughties, also believes the Essex batsman would have benefitted from a rest with England due to play an Ashes series, plus Tests against West Indies, New Zealand, Pakistan and South Africa in 2015.
"Look at New Zealand rugby... they have given Dan Carter six months off to get himself ready for the World Cup because they know the pressures he is under," said Vaughan.
"By taking on the one-day job and captaining the side all winter, going into a huge year of Test match cricket… I think he will be absolutely drained."
England's schedule before next summer

August-September 2014

5 ODIs & T20 v India (home)

November-December 2014

7 ODIs v Sri Lanka (away)

January-February 2015

ODI tri-series v Australia & India (in Australia)

February-March 2015

ICC World Cup (in Australia & New Zealand)

April-May 2015

3 Tests v West Indies (away)
Vaughan also says he is "amazed and staggered" that Essex all-rounder Ravi Bopara is not in the squad for the five-match ODI series against India.
"Ravi could probably be considered - in the last 18 months at least - England's best one-day cricketer," said Vaughan. "Five, six and seven are the hardest places to bat in one-day cricket, they are the pressure zones. He was beginning to really read games - when he would walk out to the middle it looked as though he was half in control whereas in the past I've seen him walk out and thought he would panic.
"He's played 108 games and, to think we're so close to a World Cup and we're throwing away all that experience and know-how. Also, his bowling ability on flat wickets - his changes of pace and angles - will be missed and I'd be amazed if he wasn't back in for the World Cup."
Bopara has scored 2,453 runs in ODI cricket at an average of 31.44, and taken 37 wickets at 37.45 with an economy rate of 4.88.