Graeme Swann: Alastair Cook's one-day role a 'poisoned chalice'
Last updated on .From the section Cricket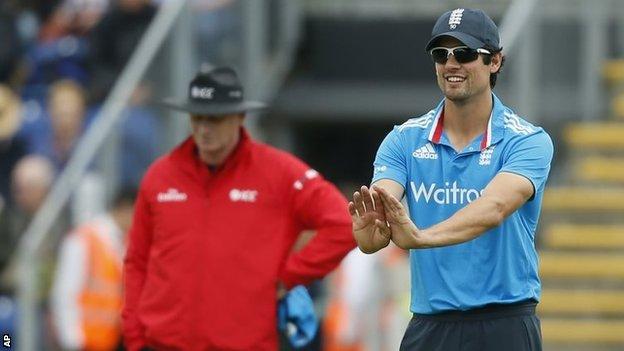 Graeme Swann believes the one-day captaincy is a "poisoned chalice" for Alastair Cook but insists he is not conducting a witch-hunt against his former England team-mate.
Cook described Swann as a "so-called friend" after the comments.
But Swann told the Sun: "Real mates are honest with each other. Being the one-day captain is a poisoned chalice for him. He just doesn't need the job."
Swann, who took 104 wickets in 79 one-day internationals for England and retired in December, wants an overhaul of the one-day team before next year's World Cup.
Graeme Swann on England
"We're happy to tootle along in a two-litre diesel in a Formula 1 race."
England suffered a 133-run defeat by India in the second one-day international in Cardiff on Wednesday after the first match in Bristol was rained off.
Swann said he was not surprised by the reaction of Cook, 29, who faced calls to quit as Test captain earlier this summer.
He added: "It's never nice when you feel your nose has been put out of joint. I'm sure I'll speak to Cooky over the next couple of days but I won't back down from what I said.
"This is not a witch-hunt against Cooky and I'm still a huge supporter of his captaincy in Test cricket."
England's schedule before next summer

August-September 2014

5 ODIs & T20 v India (home)

November-December 2014

7 ODIs v Sri Lanka (away)

January-February 2015

ODI tri-series v Australia & India (in Australia)

February-March 2015

ICC World Cup (in Australia & New Zealand)

April-May 2015

3 Tests v West Indies (away)
Swann feels that Cook's one-day strike rate - currently at 77.98 runs per 100 balls - does not set the tone to make England competitive in the World Cup in Australia and New Zealand.
"In one-day matches I want England to play the exciting cricket they promised six months ago when Peter Moores took over as head coach," he said.
"We're happy to tootle along in a two-litre diesel in a Formula 1 race.
"In one-day cricket you should pick your 11 best players and choose your captain from there and I don't think he is one of the best 11 players."
The third one-day international against India takes place in Nottingham on Saturday.