Full-strength Ireland take on South Africa in T20 series
Last updated on .From the section Cricket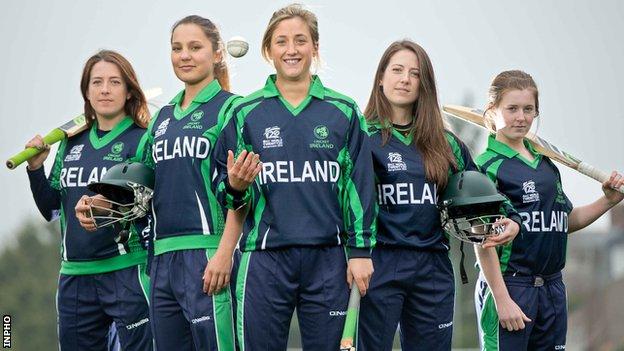 Ireland have named a full-strength women's squad for their three-game Twenty20 international series against South Africa in England.
Trent Johnston's team recently won the European Championships, having earlier won the ECB Division Two T20 Cup.
It will be Johnston's last games with the side, as he is taking up a coaching post with New South Wales.
The games are being played at Moseley in Solihull, with two on 9 September and the third the following day.
Isobel Joyce captains the Irish side, which includes her twin sister Cecelia, and Merrion team-mates Kate McKenna and Elena Tice.
In-form opening bowler Louise McCarthy is one of three Pembroke players, along with Shauna Kavanagh and Kim Garth.
"It is sad to be leaving but I am proud of what the players have achieved in my time at the helm," said Australian-born coach Johnston, who captained the Irish men's side at the 2007 World Cup.
"The trophies are a bonus. For me, the real prize has been seeing the team grow and mature into a real cohesive unit.
"The future of Irish women's cricket is bright - you only have to look at the fact we have four teenagers in the current squad who are all contributing."
Ireland squad: Isobel Joyce (Merrion CC, capt), Laura Delany (Leinster CC), Kim Garth (Pembroke CC), Cecelia Joyce (Merrion CC), Shauna Kavanagh (Pembroke CC), Amy Kenealy (Leinster CC), Gaby Lewis (YMCA CC), Louise McCarthy (Pembroke CC), Kate McKenna (Merrion CC), Lucy O'Reilly (YMCA CC), Clare Shillington (YMCA CC), Elena Tice (Merrion CC), Mary Waldron (Malahide CC, wk).