Indian Premier League 'shouldn't be there', says Sir Ian Botham
Last updated on .From the section Cricket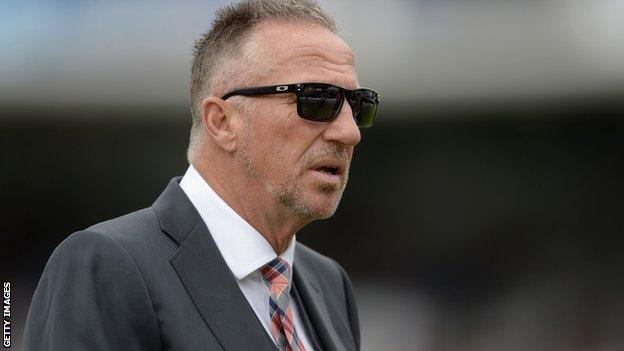 Sir Ian Botham has called for the Indian Premier League to be scrapped because it is "too powerful for the long-term good of the game".
The former England captain says the IPL provides the "perfect opportunity for betting and therefore fixing" and believes "players are slaves to it".
"I'm worried about the IPL - in fact, I fear it shouldn't be there at all," the 58-year-old said.
"It is changing the priorities of world cricket."
Botham's comments came as he delivered the 2014 MCC Spirit of Cricket Cowdrey Lecture at Lord's on Wednesday.
The IPL, the world's richest cricket tournament, was first staged in 2008 and is renowned for paying large salaries to competing players.
The annual tournament has been dogged by allegations of spot-fixing and illegal betting, and in April of this year India's Supreme Court asked the country's cricket board to investigate the claims.
Indian Premier League in focus

Kevin Pietersen was the only England player sold at the 2014 auction - 10 of his compatriots, including Luke Wright and Alex Hales, were overlooked.

Kolkata Knight Riders and Chennai Super Kings lead the way with two IPL titles apiece. Rajasthan Royals, Deccan Chargers and Mumbai Indians have each won once.

Eleven franchises have competed in the IPL since it began in 2008. The 2014 edition featured eight teams.

Gautam Gambhir became the most expensive player sold at an IPL auction when Kolkata paid $2.4m for his services in 2011.
Botham added: "How on earth did the IPL own the best players in the world for two months a year and not pay a penny to the boards who brought these players into the game?
"Corruption is enough of a problem in itself, but the IPL compounds that problem given it provides the perfect opportunity for betting and therefore fixing."
Addressing the International Cricket Council's efforts to rid the game of corruption, Botham added: "We have seen a few players exposed, but does throwing the odd second XI player into jail solve it?
"To kill the serpent, you must cut off its head. The ICC Anti-Corruption Unit must pursue the root of the problem and if necessary expose the big names."