Northants will find it tough to compete, says David Ripley
Last updated on .From the section Cricket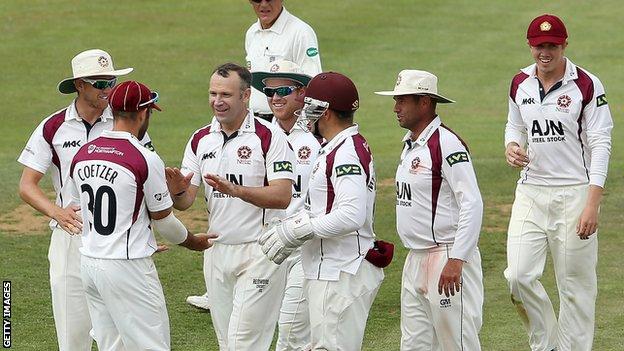 Northants head coach David Ripley has said it will be a continuous struggle for Division Two teams to become mainstays in the top division.
Ripley's side suffered relegation this week and have never played consecutive seasons in Division One.
"Historically it's proving tough for a county the size of ours to slug it out with the depth of squad of counties cemented in the top division," he said.
"There's generally one surprise, as they can't all be in the top division."
This week's draw with Somerset confirmed Northants' relegation back to Division Two with three games still to play.
Recent relegations
2014: Northants
2013: Derbyshire & Surrey
2012: Lancashire & Worcestershire
2011: Hampshire & Yorkshire
2010: Essex & Kent
The Wantage Road side, who have been hampered by injuries throughout the season, have yet to win a County Championship game this year.
But a maiden century for Ben Duckett against Somerset raised Ripley's hopes of nurturing a young squad, with the view of another promotion within two years.
"We've had three stabs in Division One and each one has only lasted for the one season," said Ripley.
"Historically it's been tough, but if the group of good young players stay with the club and gain experience, hopefully we will be better prepared if we get another go.
"We've got some plans where hopefully we can be competitive. We're having to stabilise a bit in the first year and then we're hoping with a bit of extra money we can come up again in 2016."