Moeen Ali: PCA boss Angus Porter admits comments were a 'mistake'
Last updated on .From the section Cricket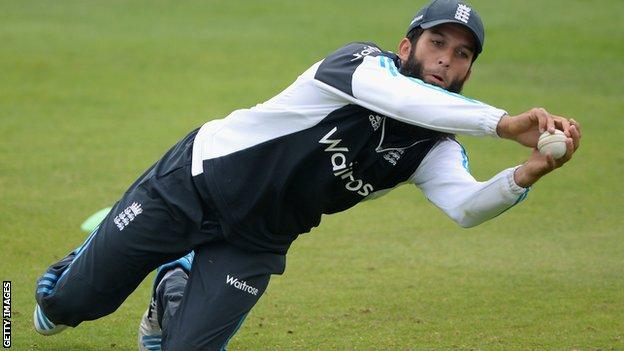 Professional Cricketers' Association boss Angus Porter has apologised after saying Moeen Ali should view the abuse he faced at Edgbaston "as a positive".
Porter initially said "you'd rather be booed than ignored", but his comments were met with criticism.
In response, he said: "I made a mistake by suggesting racism does not matter. I do condemn it unreservedly."
Moeen's father Munir claims Sunday's events were a result of his son's Pakistani background and police treated the incident as "non-crime hate-related" after an official complaint from a spectator.
The police would need more evidence to pursue the issue, however, and Moeen, who was out for a duck and took 1-31 with the ball, does not want to make a complaint.
In his original response to the incident, Porter said Moeen's father had "offered his view sincerely", adding that he hopes "it doesn't stoke the fire because he was just standing up for his boy".
He added: "There is an element of taking it as a compliment. You are more likely to boo someone when you think they are someone to be feared.
"Take it as as a positive, you'd rather be booed than ignored."
Porter backtracked on those comments in a subsequent interview with the Daily Telegraph.
He said: "I tried to play down the situation because Moeen does not want it to become a major issue. But in trying to play it down I succeeded in doing the reverse and I am sorry.
"It is very important that I make it clear that racist behaviour is condemned unequivocally and I am happy to say that."
In a statement released on the PCA website, he added that "Moeen Ali has the full support of the PCA, as do all our members".