In-match bowling technology trial may happen in 2015
By Alison Mitchell
BBC Sport
Last updated on .From the section Cricket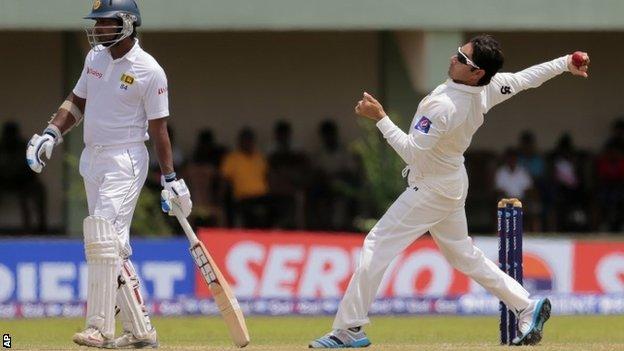 Technology to monitor bowling actions could be trialled in a match in 2015, says the International Cricket Council.
A project to develop in-match testing by using sensors attached to the body is in its third and final stage.
The ICC will look to use the current testing standard of the degree of elbow extension, according to general manager of cricket Geoff Allardice.
Pakistan spinner Saeed Ajmal was suspended earlier this week for an illegal bowling action.
Testing revealed that none of Ajmal's deliveries were legal and, as the leading one-day bowler in the world, he is the most high-profile casualty yet of an ICC crack down on suspect bowling actions.
Sri Lanka's Sachitra Senanayake, West Indies' Shane Shillingford and New Zealand's Kane Williamson have also been suspended in the last 12 months, while Zimbabwe's Prosper Utseya and the Bangladesh pair of Sohag Gazi and Al Amin Hossain have all been reported, pending tests.
Law 24, Section 3
"A ball is fairly delivered in respect of the arm if, once the bowler's arm has reached the level of the shoulder in the delivery swing, the elbow joint is not straightened partially or completely from that point until the ball has left the hand. This definition shall not debar a bowler from flexing or rotating the wrist in the delivery swing."
Source: MCC Laws Of Cricket
Bowlers are not allowed to straighten their arm by more than 15 degrees.
Allardice told BBC Sport that testing in a match situation would not happen until mid-2015 at the earliest.
He said: "The first stage of the project was just to determine whether the types of sensors can detect an illegal action, which, after a bit of experimentation and number crunching they decided it could.
"The second stage was to package it in a way that we'd be able to use in a net or training environment with some software. We ran some trials in Dubai in February this year, in conjunction with the Under-19 World Cup, where that stage was completed.
"So we're about to embark on the third stage of the process, and the main process is how do we apply that technology in a match environment."
The main challenge facing the developers is how to attach the sensors to the arm so that the calibration is not affected by a player's movement in the field during the course of play.
There is also the question of how quickly the responses from inertial sensors can or should be obtained, for example after every ball, the end of an over, or at the end of a session.
"The progress with the science is really really encouraging," Allardice added. "But there are some challenges in terms of making it practical."