Geoffrey Boycott on England, Test cricket, the Ashes and his legacy
Last updated on .From the section Cricket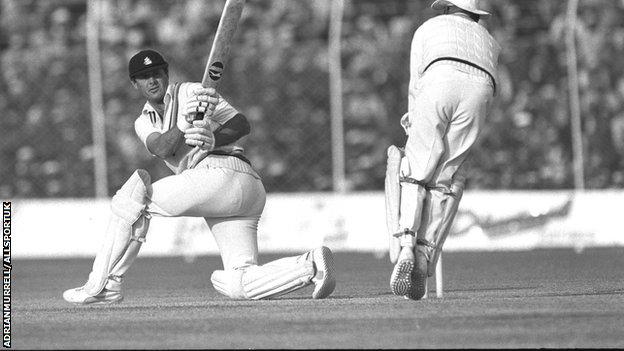 Legendary former England opening batsman Geoffrey Boycott opposes the view that England do not concentrate enough on one-day cricket, but is not particularly enamoured with the selectors.
In a wide-ranging interview with the BBC he discusses a number of cricketing issues, including his concerns for the future of Test cricket and next summer's Ashes series in England.
How do you see England's World Cup chances?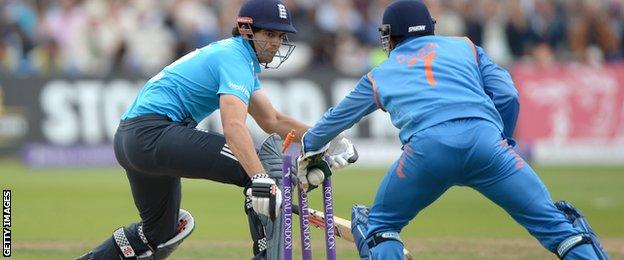 "At this time I won't be putting my money on England, but, I will say this about the World Cup; we play Sri Lanka, New Zealand and Australia then three minnows, so if you win against the three minnows, you're into the quarter-finals.
"Although we seem to be at sixes and sevens, one-day cricket is a funny game. If you play very well and you get good decisions going for you and bad ones for the opposition, if you get a bit of luck, you can go through on that day and suddenly you're in the semi-final."
Do England focus on one-day cricket enough?
"I think they do focus, they're just not very good at it. Test cricket is more important for England and there's nothing wrong with that. We play quite a lot of one-dayers, we just don't play it very well.
"Instead of making excuses maybe we should put our hand up and say it isn't working and we have to have a re-think and open up our minds a bit and get into the modern way. We're still trying to play nice cricket with our opening batsmen. Other teams come in and they plunder it these days. It has taken a long time to get Alex Hales in, who is powerful, and give him a go. That seems to be the modern game, there is a lot of power involved."
Are the selectors choosing the right players?
"We're not sure who should play in the middle order - we dropped Ravi Bopara, who was quite good. The selectors are very nice people - James Whitaker, chairman, Mick Newell of Notts - but they have never played international cricket. I think James has played one Test match. Gus Fraser, who I admire, he hasn't played international cricket for over 10 years and the coach Peter Moores, he has never played anything at all, so if I was batting I don't think I'd be asking him for advice.
"I think it's an important factor, it's not belittling them. I don't think you have to be a great player but I do think you have to have played some international cricket, and been around the international scene, been on tour. [Former national selector] Geoff Miller was very good, 34 Tests. He wasn't a great name, but he'd been around lots of tours and I'm sure that helps."
Geoffrey Boycott
108 Test matches for England
8,114 runs at an average of 47.72
609 first-class matches
48,426 runs at an average of 56.83
151 first-class centuries
Where do England need to strengthen in Test cricket?
"The second-string seam bowling. Stuart Broad and James Anderson are very, very good but it's the second string when the pressure on the opposition eases quite alarmingly. They're trying people at the moment like Chris Woakes, Chris Jordan, who's got an awful run-up, and it's not there yet. Off-spin, left-arm spin, they don't seem to have one. Moeen Ali's getting a go but Graeme Swann has been a big loss.
"Then the batting isn't solid enough. I've always believed in Test cricket you win from a platform of runs on the board. I'm quite aware of the old saying you need bowlers to take 20 wickets to win, but it's very difficult if your batsmen don't make any runs and bowlers are always under pressure.
"The best sides make a lot of runs, they're never really in much danger. We have too many low scores, too many difficulties where we're climbing a mountain for batting badly in the first innings. We don't put enough big scores on the board."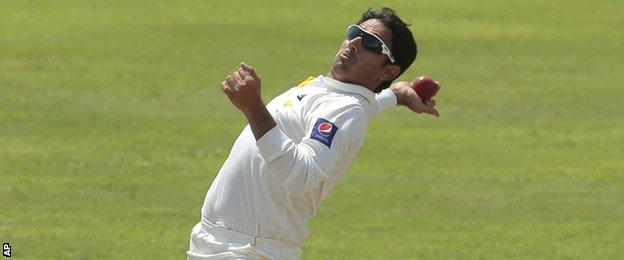 Have the ICC been right to crack down on suspect bowling actions?
"The umpires feel more comfortable being able to report them in privacy rather than having to call them in a match. The Laws of the game are held by MCC, from Test cricket to school cricket. The ICC decide, just like the PGA Tour in golf, to have localised rules and they have this rule whereby you can bend and straighten your arm 15 degrees, that is a local rule by the ICC and not the Laws of the game. Many of us don't agree with it but we live by it because that's the rules.
"I have always believed to bowl the doosra you have to bend and straighten your arm - that's throwing. Now they have legalised throwing up to 15 degrees. You can tell as a cricketer when somebody has a funny action, but the ICC has chosen at international level to have some boffins in a studio with lights and camera and all kinds of mechanics to say he bends and straightens it - which is really a euphemism for throwing - 10 degrees, so he's alright."
Who is favourite for next summer's Ashes?
"Last time in England it was pretty close, it should have been 2-2. It will be close again and it depends how we develop by next year.
"England are hoping Moeen will improve. He's done alright so far, his batting has shown glimpses, his bowling has shown glimpses but he's got to do a bit more than that. You can't just flit in and out with your batting and bowling to play well at Test level.
"If Mitchell Johnson gets injured and can't play, the odds may come towards England, but Ryan Harris is important too. He has had injuries, so they may have to nurse him a bit. At the moment, they're better placed than us, although in sport it can change quickly."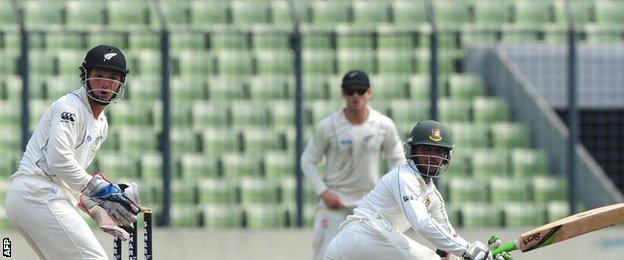 Is the future of Test cricket in jeopardy?
"It's a problem and we might have missed the boat, it might be too late. It will still be alright while I'm alive but I don't know about 30 or 40 years. There is nothing certain about Test cricket because as much as we love it and we think it's the best test of a cricketer for his character, his courage and his technique, one-day cricket has become so important to people.
"We've seen for the first time in England that when it's not Australia it's difficult to sell the seats. Lord's will always sell out because it's the Mecca, people want to go, it's an iconic place. But at Headingley or Southampton we're struggling to sell the seats and that will happen more and more."
How do we preserve it?
"I've thought for a long time the ticket prices are too high. The people who run the game might find they are going to have to address that in the coming years.
"For years, I have advocated that two grown-ups and two youngsters free should be a family ticket to make it more affordable, but next year the best tickets will be over £100 at Lord's and more than £80 at other places.
"For a couple, that's a hundred and plenty, so they might think 'let's go somewhere else that doesn't cost as much'. That will happen more and more."
How would you like to be remembered?
"I haven't a clue. I won't have a say in it will I?
"Adversity never breaks a good man, it fines him down like gold so he rises up a better man. You should never be afraid of adversity, it's what you do about it that counts. I've had my share. I've had to climb the mountain again."
Interview by BBC Sport's Jamie Lillywhite