Yorkshire: Andrew Gale wants extended Jason Gillespie stay
Last updated on .From the section Cricket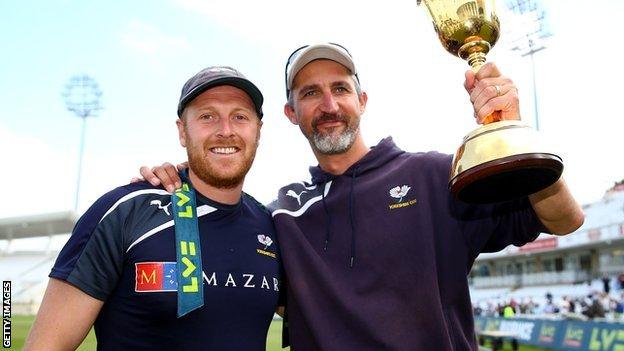 Coach Jason Gillespie wants to "build a legacy" of success for Yorkshire, according to captain Andrew Gale.
The Headingley side clinched their first County Championship title since 2001 with a comprehensive win over Nottinghamshire on Friday.
Gillespie, 39, took charge in November 2011, having previously spent two summers with the club as a player.
"He is not the kind of guy who strikes me as wanting to win just one trophy," 30-year-old Gale told BBC Radio Leeds.
"With the record that he's got I think a few high-profile jobs will come knocking, but he's very settled here."
Gale on title-winning belief
"At the end of last season I thought we were good enough to have won the Championship.
"It's been tough with losing players to England, but when we got to the halfway point and we were sitting top of the table you start to think if we get it right then we'll get the trophy."
The former Australian paceman led Yorkshire to promotion from Division Two in his first season as coach and to second place in the top flight last summer.
And Gale is confident that with Gillespie in charge, the title can be the start of a successful period for the county.
"I think this squad of players is one of the strongest Yorkshire has ever had. I believe this group will be talked about for a long time," he said.
"I think this team can be successful for five or 10 years and that was always Martyn Moxon's aim when he came in as director of cricket.
"We'll enjoy the moment now but over the winter we'll reflect and plan on how we can go on from here."
Most Championship titles

Yorkshire: 31 (+1 shared)
1893, 1896, 1898, 1900, 1901, 1902, 1905, 1908, 1912, 1919, 1922, 1923, 1924, 1925, 1931, 1932, 1933, 1935, 1937, 1938, 1939, 1946, 1949 (shared), 1959, 1960, 1962, 1963, 1966, 1967, 1968, 2001, 2014

Surrey: 18 (+1 shared)

1890, 1891, 1892, 1894, 1895, 1899, 1914, 1950 (shared), 1952, 1953, 1954, 1955, 1956, 1957, 1958, 1971, 1999, 2000, 2002

Middlesex: 10 (+2 shared)
1903, 1920, 1921, 1947, 1949 (shared), 1976, 1977 (shared), 1980, 1982, 1985, 1990, 1993

Lancashire: 8 (+1 shared)

1897, 1904, 1926, 1927, 1928, 1930, 1934, 1950 (shared), 2011

Warwickshire: 7
1911, 1951, 1972, 1994, 1995, 2004, 2012
Despite being suspended for the Notts game and barred from lifting the County Championship trophy, a ruling former England skipper Michael Vaughan called "a disgrace", Gale still considers the title win as his career highlight.
The former England Lions batsman was appointed as the county's skipper in 2009.
"When I took over as captain I wanted us to win trophies and we have had a couple of runners-up medals, so to eventually win the Championship was an unbelievable feeling," he added.
"It's top of the list for me. When you look back over you career you don't remember the personal accolades, you remember the trophies you won."