Murray Goodwin: Being dropped by Glamorgan was 'lowest point'
Last updated on .From the section Cricket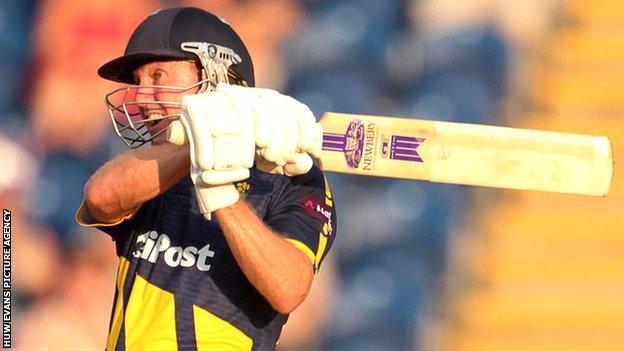 Retiring Glamorgan batsman Murray Goodwin says being dropped by the Welsh county this summer was "probably the lowest point" of his career.
Goodwin, 41, has featured in only eight four-day matches this season, scoring 347 at an average of 23.
The Zimbabwe international added he had enjoyed his time in Cardiff, but his second season had been tough.
"It's a wonderful club. It's a pity that we're not gelling this year and it wasn't as enjoyable for me," he said.
Goodwin had a successful first season in Wales in 2013, averaging 56 with the bat, but has now decided to retire from first-class cricket to spend more time with his family in Australia.
In 2014 he was dropped from the county's Championship side after five games, an experience which he found hard to take.
"That was probably the lowest point of my career," he said.
Murray Goodwin's career record

Matches

Runs

Average

H/score

100s

TESTS

19

1,414

42.84

166*

3

ODI

71

1,818

27.13

112*

2

F/CLASS

320

23,723

46.69

344*

71
"When you've been told that you're one of the best players in the team and in the country and then get dropped, it hits you hard."
Goodwin said he had scored only 29 runs fewer than he had at the same stage the previous season.
"It wasn't a lot of difference and it was probably just the belief in the player that wasn't there," he added.
The decision to drop Goodwin was taken by a panel including head coach Toby Radford, who took over from Matthew Mott at the end of 2013.
"I get along fine with Toby, maybe there were just some differing opinions," Goodwin said.
He was one of four players the club announced would be leaving at the end of the season, along with Gareth Rees, Stewart Walters and Tom Lancefield.
Bowlers Mike Reed, 26, John Glover, 25, and Huw Waters, 27, all previously announced they would be leaving the Swalec Stadium.
"Maybe they can use that money elsewhere and I hope they will be replacing some of the players that are being released. Glamorgan is a quality club and there is a lot of potential," said Goodwin.
"I've loved it at the club, I really have. The support has been awesome, but it's hard because the club has got so many financial constraints and I do feel for guys like chief executive Hugh Morris who have come in."