Are One-Day Cup stars the answer to England's World Cup problem?
Last updated on .From the section Cricket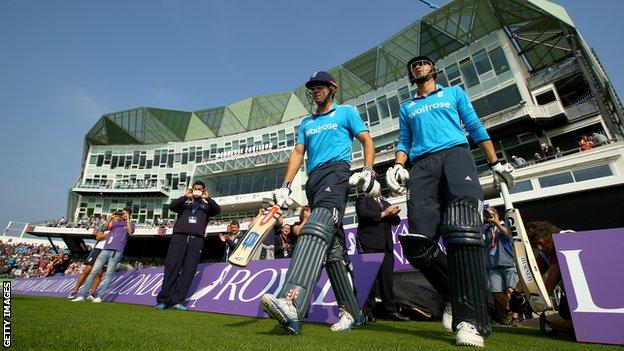 Over the past two months it has become clear that English players are quite good at 50-over cricket.
It might come as a surprise to some, especially as England are about to begin preparing for another World Cup as one of the teams that have never lifted the trophy.
The England and Wales Cricket Board brought the domestic game back into line with international cricket this summer by restoring the longest limited-overs format to the domestic schedule, replacing the 40-over tournament that ran from 2010-13.
And while the national team were producing uninspiring performances in the 3-1 series loss against India, a crop of talented, exciting and uninhibited players, like Nottinghamshire's James Taylor and Sam Billings of Kent, have been showcasing their abilities in the revamped One-Day Cup.
Taylor smashed three centuries in four innings before Notts bowed out at the semi-final stage, while Billings made 458 runs in seven innings at an astonishing strike rate of over 150.
In all, there have been 26 totals of 300 or more in the 79 One-Day Cup matches so far, so as the England selectors consider their World Cup options, is it time for them to continue the policy which saw Taylor's Notts team-mate Alex Hales picked this summer and put their faith in more players who have proved their worth for their counties?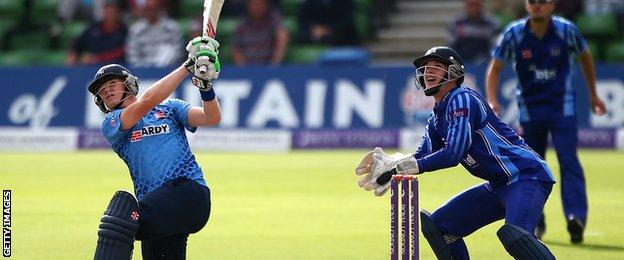 Former England one-day captain Adam Hollioake believes the national side need to make brave decisions if they want to chase success.
"I believe England have the best stroke-players in the world. Our best guys are playing domestic cricket, they just do not get picked," he told BBC Sport.
"If we stick with what we have now, I would suggest we are not looking to win the World Cup.
"You need to be bold; you need to pick guys that can strike close to or at a rate of 100.
"I would be taking a risk, and risking not making the Super Eights, to actually give us a chance to win the World Cup.
"No-one remembers who finishes fourth or fifth in a World Cup, people only remember the winners, and you have to pick the players that could win it for you."
One-Day Cup top English strikers

Sam Billings

Ben Stokes

James Taylor

Tom Westley

Jonathan Trott

Innings
7
6
7
7
8

Runs

458

372

444

344

486

Highest score
135*
164
146*
111*
108

Strike rate

154.20

105.68

96.52

93.22

87.09
Despite calling for England to be brave, the former all-rounder accepts it can take a minimum of 10-15 matches for new players to find their feet in international cricket and there is a danger of the likes of Taylor and Billings falling by the wayside if they failed at the World Cup.
England have been down the road of picking one-day specialists before, especially in the latter half of the 1990s when Ian Austin, the unrelated Browns - Ali and Dougie - and Graham Lloyd were among those selected.
It did not work as England went into the 1999 World Cup as hosts and were eliminated after the first-round group stage.
But the players picked as specialists in the 90s were seasoned county players, whereas the young group now coming through are still developing and are emboldened by emerging in an era when T20 cricket has enabled batsmen to throw caution to the wind.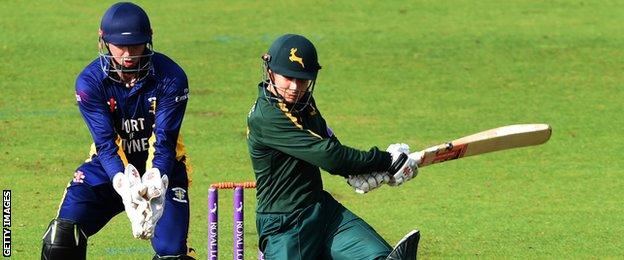 Paul Collingwood, who led England to victory in the World Twenty20 in 2010, will play alongside Ben Stokes for Durham when they face Warwickshire in the One-Day Cup final on Saturday and echoed Hollioake's belief that the 50-over side needs to take a new direction.
"The great thing about the guys coming through the county game is that they are playing X-factor kind of cricket," the 38-year-old, who played 197 one-day internationals and 35 T20 games for England, said.
"They play shots that they have developed from the ages of 12, 13 and 14 because they have been exposed to T20 cricket early in their careers.
"Realistically you want to be giving these players 20 or 30 matches before a World Cup to see what they are like under pressure, against mystery spin and extreme pace.
"It could be too late for all of them to come in now, but there may be the odd one or two with that X-factor that could come in."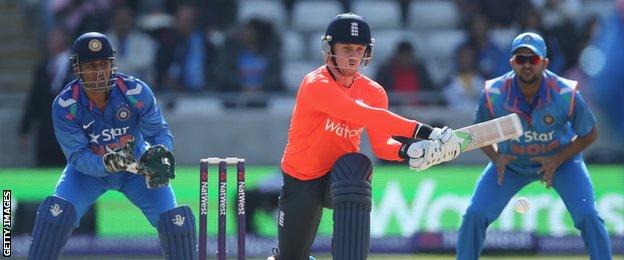 Another of those 'X-Factor' players is Surrey's Jason Roy, who earned his first England chance in their T20 match against India in early September.
Although the explosive opening batsman made only eight off 10 balls, the manner in which the 24-year-old went about it impressed former England one-day wicketkeeper Paul Nixon.
"County cricket always unearths good talent and the likes of Jason Roy need to be given a go," Nixon said. "He has had a phenomenal T20 season and that is how you break into 50-over cricket.
"Roy only made eight, but what was good for me was that he got off the mark with a reverse-sweep off a world-class spinner.
"It has proved that he has no fear and his mindset was that he was going for it and playing the way he always does. That tells me he can play at the top level."
Jason Roy's T20 Blast statistics

Innings:
15

Runs:

677

Fours:
77

Sixes:

27

Strike rate
157.07
Although England pulled off a thrilling three-run victory in that T20 game, they failed to register a single score over 300 in the 50-over series defeats by both India and Sri Lanka this summer.
And Hollioake and Nixon believe that must change if England are to have a chance of success next February when Australia and New Zealand host the World Cup.
"You are not going to win any World Cup games against any decent opposition with a score of 225," Hollioake admitted.
And Nixon agreed, adding: "The public want to see more of an attacking brand of cricket from England, where we take risks.
"We might lose a few games getting bowled out cheaply at first, but we will be playing a very exciting brand of cricket and people will want to go watch and support.
"The more times you keep doing it, you will eventually get it right."
It may be too late to expect young diamonds unearthed from the county game to end England's 39-year wait for World Cup glory.
But as the old saying goes, nothing ventured, nothing gained.