Warwickshire v Durham: Bouncing Bears out for a fun day at Lord's
By Ged Scott
BBC Midlands Sport
Last updated on .From the section Cricket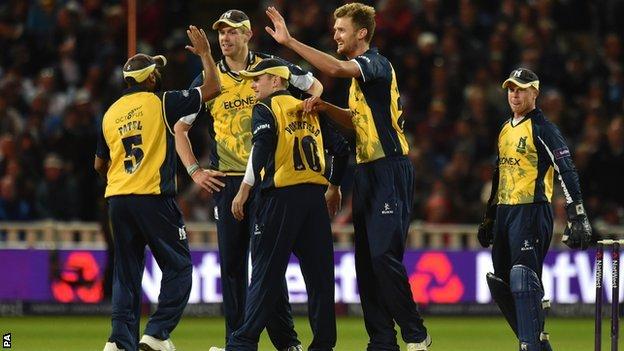 'Go out there and enjoy yourself' has long been a well-established entry in any true, definitive collection of great sporting cliches.
But it will once again prove a big part of Warwickshire's mantra at Lord's on Saturday when the Bears take to the field against Durham in the One-Day Cup final looking to win their second trophy in a month.
Spinner Jeetan Patel was part of the Bears team who won the T20 Blast on their own patch at Edgbaston last month - and now he wants more of the same.
"Winning the T20 was massive for us," he told BBC Sport. "We've got the trophy and that's a big bonus for us.
"In terms of guys seeing an opportunity, we now know what it's like to win something. And it's a great feeling. We just can rock up and play and not feel nervous and enjoy the opportunity to put on a showcase.
Bears in the big house
Aside from the injured Ian Bell, who has never scored less than 54 in his four Lord's finals for the Bears, on top of his 148 ODI appearances for England, Warwickshire have six other players with experience of domestic cricket's big day out in London.
Jonathan Trott was a loser against Hampshire in 2005, but a winner against Somerset in 2010, when Chris Woakes, Keith Barker and Rikki Clarke all played.
Clarke, Woakes, Jeetan Patel and Tim Ambrose all played in the last-ball CB40 final defeat by Hampshire in 2012.
Durham's only previous trip to Lord's brought them their first silverware as a first-class county in 2007 when they beat Hampshire in the Friends Provident Trophy. From that day, they have three survivors, captain Paul Collingwood, Phil Mustard and Gareth Breese.
"The whole squad are there with their families and our friends too. And you want to have fun while you're doing it.
"Ever since we got to the final (with a comfortable six-wicket semi-final win over Kent) we've just been looking forward to going there and getting the job done."
Warwickshire coach Dougie Brown, himself a veteran of five Lord's one-day finals, twice as a winner, is another from the 'just enjoy the day' school of thought.
"It's an amazing occasion," said the 44-year-old Scot. "You have to walk to the ground to best enjoy the atmosphere.
"People queue from early on and when you walk past them everyone knows who you are and why you are going to the ground.
"I've already said to the players that they need to enjoy every single moment because it is an incredibly special day, win or lose.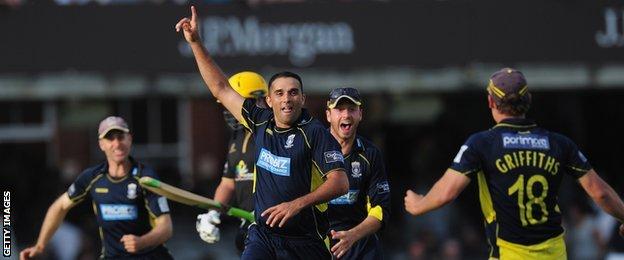 "If you go there with an open mind and look to enjoy the day regardless of the result you will come away from Lord's in a much better frame of mind. Of course it is about winning but it's all about enjoying the day as well."
Warwickshire, more than any other team, also know that playing a Lord's final late in the season can all be about winning the toss - and taking advantage of the rising September dew in St John's Wood.
Twice, in both the 1982 and 1997 NatWest Trophy finals, Warwickshire were hammered by nine wickets after being put in. And, in 15 of their 17 finals, the winners have been the side batting second.
Of those matches, the most recent was the final-ball defeat by Hampshire in the 2012 CB40 final when, with just one run required, Neil Carter missed a full toss from Kabir Ali to leave their opponents the victors by having lost fewer wickets.
Fundamental in Warwickshire's approach, however, could be simply finding a plan to counter Durham's main danger man Ben Stokes.
The Bears were on the receiving end from him back in 2011 when he hit an unbeaten 150 against at Edgbaston in the CB40, off just 113 balls.
That stood as his highest one-day score until just a fortnight ago when he smashed a stunning 164 to see off Nottinghamshire in the semi, once again off 113 balls.
Bears finals at Lord's

Wins

Defeats

1966 Gillette Cup - beat Worcestershire by five wickets

1964 Gillette Cup - lost to Sussex by eight wickets

1968 Gillette Cup - beat Sussex by four wickets

1972 Gillette Cup - lost to Lancashire by four wickets

1989 NatWest Trophy - beat Middlesex by four wickets

1982 NatWest Trophy - lost to Surrey by nine wickets

1993 NatWest Trophy - beat Sussex by five wickets

1984 B & H Cup - lost to Lancashire by six wickets

1994 B & H Cup - beat Worcestershire by six wickets

1994 NatWest Trophy - lost to Worcestershire by eight wickets

1995 NatWest Trophy - beat Northants by four wickets

1997 NatWest Trophy - lost to Essex by nine wickets

2002 B & H Cup - beat Essex by five wickets

2000 NatWest Trophy - lost to Gloucestershire by 22 runs (D/L)

2010 CB40 - beat Somerset by three wickets

2005 C & G Trophy - lost to Hampshire by 18 runs

2012 CB40 - lost to Hampshire by one run
"Every team has someone who can strike the ball out of the park," said Kiwi Patel.
"For them, it was Ben Stokes a couple of weeks ago. He got them over the line and it will be important to get him out.
"But what we have done this year so well is to take wickets throughout the 50 overs. And, if we can keep doing that, we'll have a good chance."
Although Warwickshire may have several who have not played in a Lord's final before, even without the injured Ian Bell, they have plenty of players to have big-match experience with England - not to mention New Zealand international Patel and skipper Varun Chopra, who has played for England A.
"It can be very testing for anyone who has not played in a final at Lord's before," admits Patel. "But they'll be fine as long as they take it in their stride and concentrate on enjoying it."
Injured Bears fast bowler Chris Wright will be part of the BBC WM commentary team for Saturday's final, as match summariser, along with Clive Eakin and Mike Taylor (Online and DAB).